Goodwill Industries expands with lease for new veterans center in Frederick
Baltimore Business Journal  |  Melody Simmons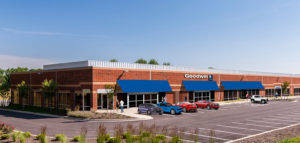 A 12.6-acre site in Frederick is being converted to office and industrial space that will include a new Western Maryland veterans services center.
The site will expand the Riverside Tech Park off Monocacy Boulevard and Progress Drive. It will hold four single-story flex buildings by Woodlawn developer St. John Properties totaling 146,600 square feet.
Nearly half of that has been leased by Goodwill Industries of Monocacy Valley, St. John officials said Friday.
The nonprofit that serves Frederick and Carroll counties has leased a total of 72,000 square feet of space to open a new retail outlet and expand its offices alongside the 40,120-square-foot veteran service center. More than 100 employees are expected to work at the operation when it opens in late 2020.
Michael H. Meyer, CEO of Goodwill Industries of Monocacy Valley, said the need for the expanded veterans services arose after a 2017 survey of veterans in the area. Goodwill will partner with Platoon 22 — a nonprofit based in Frederick that focuses on suicide prevention and mental health issues for veterans and first responders — to form the veteran's center and offer services that include job training, employment and financial education.
"We discovered that more than 416,000 veterans live in Maryland, with more than 100,000 of this total residing within the Frederick and Carroll County region," Meyer said, in a statement. "Veterans and their families sign a contract to protect and defend this nation. That contract includes post military service and supports in return for their service. We need to do a much better job of delivering on that side of the contract."
St. John's expansion of its Riverside Tech Park was approved by Frederick County officials in March. When the development is completed, the park will total 60 acres and 12 buildings. Other tenants include a Subaru regional automotive performance and training facility, Wilcoxon Sensing Technologies, EDCO, Subway and a Royal Farms.
It will be the second development in the works in Frederick by St. John Properties. The developer is also building 61-acre Arcadia Business Park off Route 85 and Interstate 270 with 600,000 square feet of speculative flex and warehouse space.