Goodwill, Platoon 22 announce joint venture in veterans center, complex
Frederick News Post  |  Ryan Marshall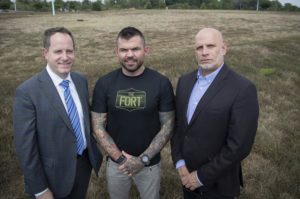 Danny Farrar acknowledges that his transition out of the U.S. Army went poorly.
After serving in Iraq in 2005 and 2006, Farrar ended up homeless and divorced, eventually attempting suicide before he formed a group, Platoon 22, to help veterans struggling with similar issues.
Now Farrar hopes that a new venture with Goodwill Industries of Monocacy Valley will help his fellow veterans get the services they need.
Farrar's group will partner with Goodwill in a new complex off Monocacy Boulevard in Frederick to build a new veterans services center. The center will fill part of a 40,000-square-foot building and will include job training and placement help, counseling, mental and physical health assistance, transportation services, financial education, and help with benefits and housing.
The center will be part of a complex that will also house a Goodwill store and the company's administrative offices.
The complex will also include two other single-story buildings owned by St. John Properties adjacent to St. John's Riverside Tech Park in Frederick.
The biggest problem in helping veterans is getting them proper case management, and the veterans center will have lots of resources in one place, Farrar said Wednesday.
Veterans can make huge progress if the center helps them get into the process, he said.
Frederick is also strategically located between large Veterans Affairs facilities in Baltimore, Washington, D.C., and Martinsburg, West Virginia, allowing the new center to offer veterans a full range of services, Farrar said.
The Frederick center can help veterans get services and negotiate the system, and then those veterans can in turn help others, Farrar said.
That kind of cooperation comes naturally to people who have served, he said.
"We're used to being part of a community," he said.
Goodwill Industries of Monocacy Valley President and CEO Michael Meyer said his own service in the Marine Corps made the project personal for him.
The company has two stores in Frederick, as well as in Discovery, Middletown, Thurmont, Eldersburg, Hampstead, and Westminster in Carroll County.
The company recently sold its headquarters on East Church Street, although a donation center will remain there until at least the end of 2019.
The new location, expected to open in early 2021, will replace the Discovery store. The building housing the company's offices and the veterans center is expected to open in the summer or fall of 2020.
A lot of Goodwills in the country have a campus feel with a headquarters and a store, he said, and with the expected completion of an expanded bridge project on Monocacy Boulevard near the new location and nearby businesses on Md. 26, the new location was attractive.
"It made sense to locate a store on that stretch," he said.
The other two buildings in the complex will be an extension of Riverside Tech Park, said Matt Holbrook, regional partner for St. John.
St. John recently bought the 12.6 acres adjacent to the tech park, and the property will eventually hold 146,600 square feet of space.
The company's mission is to provide spaces for businesses and organizations to do what they do well, and the acquisition of the new property provided an opportunity for the "magical fit" between Goodwill and Farrar, Holbrook said.
Goodwill's Meyer said he saw the project as a chance to help fill a need in the community.
"It was just an opportunity to say we need to be doing more," he said.