Industrial strength: The pandemic offers a big lift to region's once-snubbed industrial real estate
Washington Business Journal | Daniel J. Sernovitz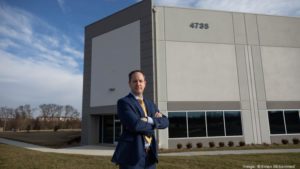 For years, Daniel Turner and Stephen Carter were making do with a two-car garage and a pair of trailers parked out front for their storage needs.
It was 2019, five years after they founded Traxyl Inc., a Warrenton, Virginia, producer of equipment that makes it faster and cheaper to install optical fiber. Now, big-dollar contracts were starting to roll in, including a job worth up to $1.4 million from the U.S. Army Corps of Engineers, and the two Osbourn High School grads hired Colliers International's Adam Schindler to help them scope out more space in the vicinity.
It was far from easy. Even with a liberal search area spanning dozens of spots from Washington to Winchester, where Carter resides, too few spaces were configured correctly or, more surprisingly, stayed on the market long enough without getting snapped up by someone else. It was upward of a year before the six-person company could settle on an 8,000-square-foot industrial condo tucked into the Gateway Business Center in Gainesville with a move-in date this March and room for more employees.
"There were some nicer buildings that were being put up, and we would find that another company would come in and take up all the space in that area," Turner said. "I was hoping that there would be many more options to choose from, especially in that heavy industrial-type zone, but we looked all around. We looked in Alexandria. We looked in Springfield. We looked in Loudoun County, Fairfax. There just wasn't as much as we thought there would be."
It's a safe bet the market will be even tighter when their lease expires in four years. Industrial space suddenly holds new allure, shedding its stepsister status in a region that long salivated over downtown trophy office buildings or retail-heavy destinations — both flung into doubt by the pandemic.
A slew of recent deals has contributed to nearly 2 million square feet of new industrial leasing activity, helping to ease the sector's vacancy rate in parts of the region in recent years. It's part of a rising tide across the country being fed by the growing popularity of e-commerce, as large corporate users look to distribute more goods and services in the coronavirus era — and eager developers look to build more spaces for them.
"We see industrial development flourishing for the foreseeable future — that demand is only going to increase," said Matt Holbrook, regional partner for suburban Baltimore-based developer St. John Properties, which is busy entitling or building more than 1 million square feet of industrial from Northern Virginia to Frederick, Maryland. "It's in large part thanks to e-commerce and last-mile distribution. And to that extent, Covid has been a catalyst for increased industrial demand."
On the conveyor belt
To be sure, this began pre-pandemic.
Since 2011, the vacancy rate for industrial space in suburban Maryland has steadily declined from 11.1% to 7.5%. The market is tighter still in Northern Virginia, according to the same Transwestern data, bearing a vacancy rate of 6.9% and positive absorption of nearly 1 million square feet in 2020. That's not too shabby given Greater Washington's industrial sector is smaller and its leasing has historically lagged other parts of the Mid-Atlantic, including Baltimore and Philadelphia.
Across the Mid-Atlantic, demand for industrial space has outpaced supply every year for the past eight years by a margin of more than 16 million square feet, said Wei Xie, associate director of research for CBRE's Mid-Atlantic region. In that span, net demand for industrial and logistics space has grown by 65 million square feet, and 62% of that came in the past four years alone, Xie said. And now its vacancy rates are hovering at historic lows — compared with office vacancy rates scaling to 15% amid Covid uncertainty for that sector.
"The strength of the industrial market was already well-established pre-Covid, with 2017 and 2019 being two record years for net absorption," Xie said.
That's despite the delivery of millions of new square feet on the industrial block. Take MRP Industrial, which broke ground speculatively in early January on the final piece of Collington Park, a nearly 500,000-square-foot business center that was kicked off more than eight years ago along U.S. Route 301 in Upper Marlboro. The team, which includes capital partner Cabot Properties Inc., hired NAI Michael to oversee leasing for the 86,840-square-foot, single-story building, expected to cost around $10 million and deliver this fall.
The finished product will feature 32-foot ceiling heights and 23 loading dock doors, not to mention a 120-foot truck court and parking for nearly 100 vehicles. In other words, it's the sort of last-mile retail distribution site that companies like Amazon.com Inc. have been seeking out closer to their customer base.
FedEx Ground got things started at Collington Park with a build-to-suit deal for a 175,000-square-foot distribution center it opened in 2014. Then came La-Z-Boy Inc., which took all of a 220,800-square-foot building MRP Industrial started speculatively. Across Queens Court to the north of Collington Park, Amazon opened a 250,000-square-foot delivery station just before the holiday shopping season at 1000 Prince Georges Blvd., which it bought in March for $34.9 million. And not quite two miles away, Target Corp. plans to establish a supply chain facility at a former Albertsons Co. distribution center at 15900 Leeland Road that it snagged for $95 million late last year.
"It's just a limited supply of product in the Greater D.C. marketplace, and the increased rental rates are producing appropriate risk-adjusted returns that gives us confidence to move forward," MRP Industrial Principal D. Reid Townsend said. "There is both increased tenant demand and a seemingly insatiable appetite for capital to shift resources or to pursue industrial product type, as opposed to new investments in office, retail or hospitality."
Go west, young developer. (Or south.)
A growing number of developers and tenants are venturing to lower-cost hubs in western Maryland or the southern portion of Northern Virginia as an alternative to closer-in suburbs.
St. John Properties, for example, is building about 480,000 square feet of industrial spread across seven buildings in Frederick, while it entitles another 77 acres that could yield  681,000 additional square feet. It's already secured leases at its Arcadia Business Park with tenants including Rockville biotech MacroGenics Inc. and a national retailer Holbrook declined to identify that plans to open a last-mile distribution facility. County land records indicate Home Depot will fill the 51,000-square-foot site.
"Frederick has a bull's-eye on it right now," Holbrook said. "It is a hot industrial market."
Merritt Properties, meanwhile, is homing in on Manassas, where the suburban Baltimore-based developer inked more than 100,000 square feet of leasing deals last year to finish off the last available space at its nearly 600,000-square-foot I-66 Business Park, just off of the Prince William Parkway exit. Its new tenants there include gummy, lozenge and soft-chew dietary supplement maker Bettera Brands and expansion space for Able Moving & Storage — Able signed on a little more than five years ago as an initial tenant at the 46-acre property.
"I'm still getting inquiries, but we're not able to help them right now," said Shaelyn Mullaney, part of Merritt's leasing team in Northern Virginia.
Though, that may change soon enough, as Merritt has been on a spree of sorts in Northern Virginia's outer ring. It owns 6.7 acres in Ashburn, where it aims to develop a 36,000-square-foot flex/light industrial building along Russell Branch Parkway, next to One Loudoun. It acquired another 15 acres at the Quantico Corporate Center in Stafford County with plans for a pair of flex/industrial buildings totaling 162,000 square feet. And it added yet another 28 acres along Austin Ridge Drive in Stafford County for a planned light-industrial business park to be dubbed Merritt at Austin Ridge. It plans to break ground speculatively there later this year on the first of five buildings, ranging from 54,000 square feet to 113,775 square feet and rising in ceiling heights to 18 feet to 32 feet.
Add to that: Other developers have been taking older warehouse buildings and industrially zoned land for use as data centers, initially concentrating in Ashburn but rippling further out as land prices in Data Center Alley, as it's known, have gotten steeper. That's offered both boon and bane for interested industrial developers, at times upping the cost pressures, but at other times fattening their wallets from hefty land sales.
St. John Properties, for example, sold a 34-acre site in Loudoun County a few years back for $14 million to a developer building data center facilities. More recently, it was part of a partnership that sold Microsoft Corp. 66 acres of future data center land in southern Loudoun County, as part of the larger Arcola Business Park, for an eye-popping $93.7 million, or roughly $1.4 million an acre.
And still other times, nearby data centers help drive interest toward an industrial pipeline of projects. "It is bringing us more demand from tenants that want to be in that space," Mullaney said, adding that Merritt has continued to head south for future developments. "We went to Manassas. We're looking at everything, and that has been the strategy for several places."
At the same time, moving further out isn't an option for every industrial user, said Marc Tasker, a principal with KLNB in Tysons who specializes in industrial leasing. The extra miles result in longer commutes for those who need to be closer to individual customers. Though, the sticker shock of staying put and renewing newly desirable industrial leases in D.C.'s immediate suburbs could ultimately mean higher prices for consumers.
"The guys who need to be here are the guys who, when you need a new furnace, they're bringing you your furnace," Tasker said. "When you need a new roof, they're bringing you your roof supplies. You'll see some inflation coming in the near future."
The balance challenge
In many of the more urban parts of the region, local government land-use policies have been enacted to push out industrial, encouraging other uses such as multifamily or retail in its stead, at sites like Pickett Industrial Park and Robinson Terminal in Alexandria and Union Market in D.C.
Those moves have depleted the region's inventory of industrial product, certainly inside but even outside the Beltway, while displacing tenants that long enjoyed low rental rates before the current spike in demand. That, in turn, has economic development agencies on Greater Washington's outskirts extending their welcome mats to industrial users in need of more affordable space.
"We're a lower cost to get up and operating," said Christina Winn, executive director of the Prince William County Department of Economic Development. "Between our operating environment and our real estate costs, for a startup company, they're not putting everything into their real estate. And now they're being able to invest in their technology and their workforce here in Prince William County."
The county supported the plans revealed last summer of direct-mail manufacturer Planet Direct's move to a new, 110,000-square-foot headquarters at 9665 Discovery Blvd. at the Innovation Park near Manassas. Prince William leaders also aided Traxyl Inc. in its anticipated move to Gainesville.
But this exercise has also sparked potential conflicts as local governments aim to weigh a retailer's need to locate near densely populated areas against a resident's desire to avoid heavy truck traffic or noise.
In the city of Gaithersburg, for example, Amazon met with some intense opposition that led it to withdraw plans for a 200,000-square-foot warehouse there late last year. The e-tailer also withdrew from similar plans in Westphalia due to concerns from neighbors.
Montgomery County has kicked off a handful of land-use and related studies on how to find that equilibrium. That includes an update to its Silver Spring Central Business District Sector Plan, which dates back to 2000 and, thus, had neither reflected the area's significant transformations since nor contemplated the potential conversion of vacant retail spaces into urban-format, last-mile distribution centers.
"It is a very tough balancing act of preserving the conditions that enable them to thrive and the future growth track of the county," said Todd Fawley-King, a real estate specialist with the Maryland-National Capital Park and Planning Commission. "It's a balancing act, and there's not always a good balance."