St. John Properties' Matt Holbrook Talks Development Outlook in DC
Commercial Observer | Keith Loria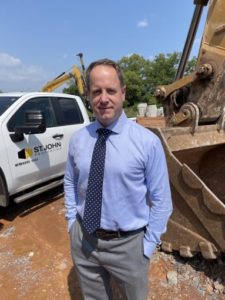 Over the last half-century, St. John Properties has evolved from a small, local real estate developer into one of the largest, privately held, commercial real estate firms in the mid-Atlantic region.
Headquartered in Baltimore, Md., the company focuses on speculative development of commercial spaces across a variety of sectors, and owns 21 million square feet of office, research and development, retail, warehouse and residential space.
Commercial Observer: What is your development philosophy?
Matt Holbrook: St. John Properties is celebrating its 50th anniversary this year, and among its differentiating missions is the company's consistency in being a speculative builder of commercial spaces to meet the emerging real estate needs of current and future clients. The pre-pandemic pace was more than 1 million square feet of speculative space in the greater Maryland-Virginia region and, and without much interruption, that aggressive pace has continued. St. John Properties anticipates where clients want to be, what real estate they want and need, and we get ahead of that by building speculatively. In essence, we try to be ready for when our clients are ready.
What attracts you to new sites for development?
When looking for new sites to develop, we consider important factors, such as demographics, area amenities, the available and future transportation network and infrastructure, expected population growth, quality of labor, and the diversity of existing businesses. In each of the criteria, all arrows are pointing up in Northern Virginia and Maryland, and this region is considered among our strongest and most attractive for continued development.
How has it changed in the past 18 months because of the pandemic?
Although the pandemic has been hard on certain sectors of the commercial real estate industry, such as hospitality and retail, it's been our experience that new business growth has significantly outweighed any portfolio challenges of the past 18 months. We have higher occupancy rates than ever and have seen a rotation in our portfolio to higher-credit tenants. Our suburban business parks have been benefiting from tenants looking to decentralize out of more densely populated urban locations. Companies across the board are placing a greater premium on the safety of their spaces, including upgraded air quality (number of air changes, ionization, UV, etc.) and a preference for direct-entry suites, more outdoor common areas, less indoor common areas, and touchless systems.
As with everyone in our industry, a major challenge we are working through is the extreme inflation and lack of availability of many construction materials. Causes may include the post COVID "reopening" effect, plant shut-downs during the height of the pandemic, winter storms in Texas, booms in life science and e-commerce demand, or hype over anticipated trillion-dollar infrastructure bills from the federal government. To overcome these challenges, we are working closely with our contractors, vendors, and clients to be especially creative and agile to mitigate these near-term disruptions.
St. John Properties owns approximately 21 million square feet of real estate space. What segments do you see trending in the D.C./Northern Virginia region currently? What are you bullish on?
E-commerce has created a seemingly insatiable demand for commercial space and we expect that trend to continue in the immediate horizon. Life science demand has also reached new heights and the tech sector is strong, including new growth sectors, such as artificial intelligence and bioinformatics. St. John Properties was founded by developing single-story R&D/office/warehouse "flex" buildings, and the widely varied needs of end-users will continue to drive the demand in this region.
Along with those demand drivers, there is an enormous demand for land for data centers. With data centers come a multitude of firms that support them, including construction and infrastructure contractors, software developers, technology integrators, etc. Those support firms are often small businesses creating many jobs and significant tax revenue, which have traditionally been points of emphasis with local municipalities. Although data centers contribute significantly to the economic health of the region, it is also important for local municipalities to be cognizant that those support firms' need more commercial space. It's vital that the remaining inventory of land not be totally consumed by data centers at the expense of industrial and commercial buildings for those support contractors, and also for the life science firms, the tech companies, and so on.
What factors do you look at when considering new properties in the D.C. region?
Generally, it is getting increasingly difficult to find well-located land assets at reasonable prices in the region, especially considering the volume of large data centers and residential projects that continue to be developed. We fall back on our tried-and-true formula, which involves forming and maintaining strong relationships with the regional brokerage community, and are grateful for the opportunities they consistently present.
We also believe that St. John Properties is a truly unique commercial real estate company, given our private ownership, ability to make quick acquisition decisions, and successfully close transactions. Rather than being beholden to large and, many times, out-of-state real estate and investment committees, only a handful of St. John Properties executives make all final decisions. This scenario also differentiates us from other privately held companies, given the multiple joint venture partners and investors that are typically involved. Brokers understand that we provide sellers with complete confidence with closing. We are long-term holders of real estate, rather than re-traders.
How do you anticipate the post-pandemic will impact office and retail in the next year?
For several years now, suburban office buildings outside of the popular mixed-use nodes have been struggling to avoid being commoditized without much differentiation. Natural tenant turnover may mean more downsizing and a flight to better locations as firms adjust to post-pandemic office needs.
On the brighter side, well-located suburban office buildings are starting to benefit as companies with more dense, urban locations adopt a 'hub-and-spoke' model to provide multiple options and increased flexibility to its workforce. Painful commutes (including mass transportation) and higher densities of people are less attractive for some firms, causing them to rethink their space needs and consider smaller offices closer to their employees.
What attracts you to the D.C. region? Why is it a good location for these sorts of properties?
The greater Washington, D.C./Northern Virginia region is among the most unique and economically diverse places in the United States. Everything begins with the federal government, and its strong influence on all businesses and industries, and, with D.C. as the seat of power for the entire country, opportunities consistently radiate out to the benefit of the entire area. The region has transformed into a technology hub for life sciences, government contracting, e-commerce and data storage. Commercial real estate is the lifeblood for each of these sectors and, accordingly, continues to prosper to mirror the growth of these different industries.
What recent developments or deals have you done in the area that are noteworthy?
One of newer projects is Gainesville Tech Park — along Wellington Road in Prince William County, Virginia — [which] demonstrates our long-term vision, recognition of value creation, and the talents of our entire team. This 136-acre property represents our first acquisition in Prince William County and, after entitling the land, we recently sold off a portion for data center use. We are developing the balance of the property for our prototypical, speculative commercial buildings. St. John Properties is always seeking new opportunities in markets that are new to us.
How do you see your portfolio changing in the next five years?
In a word — more. The formula that was established more than 50 years ago, acquiring strategically located sites and developing diverse commercial real estate product that responds to the needs of current and future clients, has proven extremely successful and enduring. We intend to remain a leader in reimagining building sustainability, and delivering commercial real estate solutions involving environmentally friendly buildings that minimize impact on [the] Earth and its natural resources. Over the years, the company has evolved from developing single-story flex/office buildings to large, mixed-use business communities offering multiple product types, and we will continue with this course.
What other trends are you keeping an eye on that could impact what we see in the future?
The experiences of the pandemic fueled a clearly increased emphasis on life sciences, as it relates to testing and vaccines, including a realized need for ready-to-go biotech manufacturing facilities for whatever the future holds. The full-scale research and discoveries associated with COVID-19 have translated into breakthroughs in related life sciences fields, including cancer therapies. These successes have spurred the emergence of new initiatives and new companies entering the life sciences industries, so we expect the continuation of an upward growth curve. The combination of exceptional research facilities, targeted sources of financial investment, and an unprecedented and highly educated workforce will assure the continuation of this activity in the life science industry for the foreseeable future.