The Inside Scoop: St. John Properties' Danny Severn
The City of Frederick Department of Economic Development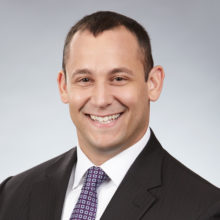 St. John Properties was one of the first developers to enter the commercial real estate market on the Northeast side of the City. Over time, the company's Riverside Technology Park has expanded into a half million square foot R&D/flex office project and become a cornerstone of one of the hottest commercial areas in the greater Frederick region.
Read the inside scoop from…
Danny Severn, Director of Development at St. John Properties
ON CURRENT BUSINESS TENANTS
Due to the flexible nature of our buildings, Riverside Technology Park has a wide mix of tenants. Our largest tenant right now, Precision for Medicine – at 75,000SF, takes advantage of the lab and storage uses our buildings cater so well too. Our single-story spaces fit-out very efficiently for labs. A company looking to have fume hoods doesn't have to worry about having a tenant above them or how to snake ventilation around elevator shafts. We've found a nice niche for those life science opportunities – which we've seen become hugely popular in that corridor and in Frederick.
Another major portion of the businesses at Riverside are local vendors. Contractors, audio-video group, home remodeling, realtors – a lot of tenants that are traditionally community-based groups that want small, efficient, utilitarian spaces. St. John Properties' has the ability to offer spaces as small as 2,500 SF and up to 80,000SF, which has really allowed a diverse group of companies to find the right fit.
ON RECENT PROJECTS
A little over a year ago EDCO (a Frederick-based equipment manufacturer) signed a 29,280 SF lease with us to house their expanding custom fabrication division. It was an exciting growth project to be apart – particularly with the company's strong connection to the Frederick community. EDCO has had its headquarters in Frederick for years and years. It's family-owned and the family still lives here in Frederick. As someone that grew up here myself, its means a lot to see a community-based project like that be so successful.
Wilcoxon Sensing Technology was another great recent project – which actually just received an award (FRED Award's Most Creative Deal). Prior to the move, Wilcoxon had been based in Montgomery County. There was a price-point motive to the move, but also a lean for workforce availability. The company had done a workforce poll and a lot of their employees had been commuting pretty heavily to get to the previous location. And, on top of those incentives, the type of space we had to offer was just a much better fit for their needs.  We like Wilcoxon's use a lot – they're a great flex-user. Wilcoxon had need for office, warehouse, and light manufacturing – that's kind of the holy trinity for our types of building. Our spaces are very well-suited to accommodate all three. It's been a great fit.
Over the years we've seen our commercial spaces have a direct positive impact on the local community. As I said before, a large portion of our tenants are small business groups – locally-owned and operated. We offer these companies the opportunity to do business in their community. Our buildings also provide a substantial platform for local employment opportunities. I don't know the exact numbers for the total workforce employed at Riverside Technology Park, but that number would certainly be large. Wilcoxon, alone, brought about 100 jobs to their space just this past fall.
Another benefit to local residents — a lot of our tenants offer a destination or entertainment factor. We're home to the headquarters of SoldierFit, a highly popular gym. We have Pump It Up, Light Side Floats, the Frederick Classical Charter School; the list goes on.
St. John Properties is managed locally and we develop & handle all of our projects locally. It's nice to be so close to the community that either directly rents the space from us, or visits our spaces as employees or patrons.
WHAT'S NEXT FOR THE AREA
St John Properties was one of the players from the onset– when the area was really an emerging market. When we entered Riverside, we saw that the potential and that the key components were there. We knew it would just be some time for all the pieces to line up – for the infrastructure of Rt.26 and US 15 to really allow that to become a strong corridor, for the Wegmans, Clemson Corner & East Church Street. As all those projects have started to tie together, it's really ignited the fire, so to speak, and the market has gotten hot.
The future is very bright for Frederick's northeast side. The annexation of the Renn Farm is especially interesting. That addition solidifies the commercial base that exists in that corridor and will be exciting for the area. At St. John Properties, we are continuously searching for new opportunities in the area.