Wilcoxon moving manufacturing to Frederick
The Daily Record  |  Adam Dednar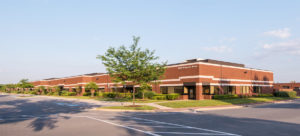 Wilcoxon Sensing Technologies has signed a 45,120-square-foot lease and will be moving its manufacturing, assembly and test equipment facility from Germantown to Frederick.
The firm's new facility is at 8435 Progress Drive in the Riverside Technology Park. Roughly 100 employees will work at the site that's expected to open in the fall.
"We were initially interested in (the property) based on its location within both the City of Frederick and Frederick County," Christopher McLean, president and general manager of Wilcoxon Sensing Technologies said in a statement. "As the second-largest city in Maryland it offers us a strong employee base for both skilled labor and professional staff. Additional bonuses were the manufacturing-friendly taxes and simplified permitting process that exists in both jurisdictions."
The building at 8435 Progress Drive is a 84,240-square-foot flex/ research and development building. The structure provides 16-foot ceilings, A dock and drive-in loading facility. It can be arranged to handle a variety of uses, such as light manufacturing.
Wilcoxon, which makes vibration sensor components, was acquired by Connecticut-based Amphenol Corp. last fall. Amphenol is one of the world's biggest makers of interconnect products.
Frederick is expected to continue to benefit from a constrained market in Maryland's Interstate 270 Technology Corridor. That part of the state, running through areas of Montgomery County such as Rockville, Gaithersburg and Germantown, has emerged as a premier location, particularly for life sciences firms.
But as demand for space increases more companies are leasing space in the northern portion of the corridor around Fredrick. Firms such as St. John Properties have started to invest in developing the area to take advantage of the increased demand. St. John Properties has several developments in the Fredrick area, including Arcadia Business Park and Westview Business Park.
According to JLL's 2017 Life Sciences outlook, the Maryland suburbs of the Washington metro area was ranked No. 6 in terms of clusters for life sciences employment concentration. The corridor only trailed areas such as Boston, San Francisco and Raleigh-Durham in terms of life science jobs. The report also identified Frederick as an emerging submarket to provide the needed supply, particularly for lab space.
The 487,000-square-foot Riverside Technology Park, according to St. John Properties, is now more than 90 percent leased. Last fall Equipment Development Co. signed a lease for 29,280 square feet. Royal Farms also announced plans to build a convenience store and gas station.
St. John Properties' Danny Foit and Danny Severn represented the landlord in the transaction. Ken Breen of Clagett Enterprises represented the tenant.