Indoor playground geared to younger kids opens in Frederick County
The Frederick News-Post  |  Erika Riley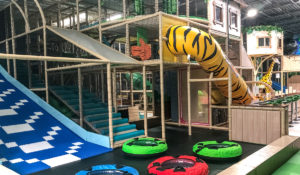 Michelle Chen and her husband, Meng Wang, were frustrated about the lack of entertainment options for their children in Frederick County, so they decided to create one themselves.
Me Land, which will open Wednesday in Westview Business Park at 5115 Pegasus Court, is a 9,000-square-foot indoor playground for children 12 and younger with slides, ball pits and climbing ropes.
The couple were inspired by indoor playgrounds in China, where their children had lots of fun when they were younger. A few years ago, they took a trip to Cancun, Mexico, and visited another indoor playground and were once again inspired to open their own business.
"It's good for kids to get their energy out, and helps with their fine motor skills and gross motor skills," Chen said. "I feel there's a lot of technology now and a lot of kids are more into that, and this is a way for them to get away from the screen and do something socialized with other kids and just have fun."
The "me" in the name signifies that the space is for the children to explore and grow. The "land" refers to the design of the playground, which is intended to look like an island, with otherworldly creatures and bright colors throughout.
The playground has three different zones for different age groups. The "Tot Zone" is suited to children 3 years old and younger, while the "Big Kids Zone" has three different levels.
Those three levels include different climbing mechanisms and slides. One of the slides emulates snow tubing, where the kids can get in a tube and slide down a slope. Another slide looks like a snake.
"I know it's pretty fun from me going down there, cleaning it," Chen said. "It goes pretty fast."
The "Ball Pit Zone," which is suitable for all ages, features interactive games and tubes that the kids can put the balls through and watch them travel. Some of the tubes will drop the balls into a UFO above the pit.
"When you push a button [the UFO] drops all the balls down. Just like at the water park, the water drops down, here it's balls that drop down," she said.
The facility will employ about 20 full-time and part-time employees and be open seven days a week. In addition to open play, Me Land will offer four different party packages for birthdays. The Wangs expect the playground to be busy during the week as parents look for something to do with their preschool-age children.
"We are encouraged by the fact that we have already received inquiries from many local moms clubs," Chen said. "This will be an excellent venue to meet up with a friend for families with preschoolers in the mornings, and also for kids to burn off some energy after school."
Meng Wang said that the couple were attracted to the Westview Business Park, owned by St. John's Properties, because of its proximity to restaurants. That way, families could make an outing or a whole day of going to Me Land.
Me Land is one of several entertainment venues, although the others are still in the planning stages. In November, developers of the former Frederick Towne Mall site rebranded the location as entertainment venue, "District 40," with one confirmed tenant, Warehouse Cinemas. Then, Arcadia Business Park, another St. John's property, announced its tenant 4th Dimension Fun was planning to bring laser tag and bowling by summer 2020.
And just a few weeks ago, Urban Air announced it will be opening a location on Ballenger Creek Pike, slated for a fall 2020 opening.
Matt Holbrook, regional partner at St. John's Properties, sees the shift as part of a national trend.
"Now, nationally speaking, retail has more of an experiential flavor than a goods-based flavor," Holbrook said. "So I think that we're seeing is the Frederick reaction to the national trend toward entertainment-based retail."
Holbrook said that he has seen many entertainment spaces come into business parks, which often have large spaces to work with. What's less usual, he said, is entertainment spaces coming into former retail spaces, such as Urban Air moving into the old Wolf's Furniture outlet.
"If you look at national trends of retail centers, it's a growing trend and all those owners are trying to figure out what's next after the retail tenants leave," he said.
Chen is excited to finally open after a year of work on the playground. She said that they have already booked several birthday parties in advance.
Me Land is also offering discounts on admission and birthday parties for the first two weeks of business.
"We're just really excited that we're finally opening and all the kids can come and enjoy because they've been waiting so patiently, and everyone's been so supportive in waiting for us to open," she said. "They're just looking for a place to bring their kids and have fun."