Montgomery County equipment manufacturer relocating to Frederick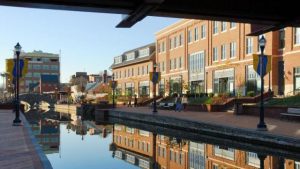 Wilcoxon Sensing Technology, a manufacturer of vibration and sensing equipment, is relocating within Maryland.
The company announced Tuesday plans to move its assembly and test equipment facility and 100 employees from Germantown to a facility in Frederick.
Wilcoxon signed a lease with Baltimore-based St. John Properties Inc. for 45,120 square feet at 8435 Progress Drive within the 44-acre Riverside Technology Park located between state Route 26 and Interstate 70. Terms were not disclosed. The company plans to make the move in the fall.
Christopher McLean, president and general manager of Wilcoxon, said in a statement the company was attracted to Frederick by its "manufacturing-friendly taxes and simplified permitting process."
Matthew Holbrook, a regional partner with St. John, said in a statement Wilcoxon's planned move out of Montgomery County "continues a trend among corporations and organizations seeking a lower cost of business operations, less congestion with convenient access, and a plentiful highly skilled workforce."
Earlier this month, Republican Gov. Larry Hogan took a shot at Montgomery County for what he perceives as its antibusiness climate, though he acknowledged it is improving.
"Montgomery County has to be careful because they're competing against other counties and they are losing people to Howard County, Fairfax County because of some of the more antibusiness rhetoric and legislation that they've passed," Hogan said, as quoted by Bethesda Magazine. "The good news is about eight and a half months from now you get an election in Montgomery County and you get to pick whoever you want to run this place."
Wilcoxon will manufacture vibration sensor components at the Frederick facility. The new digs will also house sales and engineering operations. The equipment it manufactures serves industries such as food and beverage, pharmaceutical and power generation. Connecticut-based Amphenol Corp. (NYSE: APH), a major producer of electronic and fiber optic connectors, acquired Wilcoxon last year.
Ken Breen of Clagett Enterprises represented Wilcoxon and Danny Severn and Danny Foit of St. John Properties represented the landlord in this transaction.
https://www.bizjournals.com/baltimore/news/2018/02/27/montgomery-county-equipment-manufacturer.html