Germantown company to bring about 100 jobs in move to Frederick
The Frederick News-Post | Ryan Marshall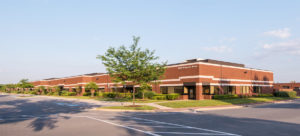 A Germantown company's move to Frederick later this year will bring about 100 jobs to a technology park on the north side of the city.
Wilcoxon Sensing Technologies has signed a lease for a 45,120-square-foot space in the Riverside Technology Park to house its manufacturing, assembly and test equipment facility, according to a release from St. John Properties, which owns the park.
Wilcoxon makes vibration and sensing equipment for the food and beverage, pharmaceutical and power generation industries, according to the release.
The move is expected to take place in the fall.
The new facility at 8435 Progress Drive will make vibration sensor parts for machinery, and will house all sales, engineering, production and testing work for the division of the company, according to the release.
Wilcoxon was bought last year by the Connecticut-based Amphenol Corp.
The company was interested in the Frederick site because of the area's strong base of skilled and professional workers, and a tax and permitting process in the city and county that is friendly to manufacturers, Wilcoxon President and General Manager Christopher McLean said in the statement.
McLean could not be reached for comment Wednesday.
"Tenants are going to move where they have a great workforce," said Matt Holbrook, regional partner for St. John Properties.
Frederick has been attracting more technology companies in recent years, said Richard Griffin, the city's director of economic development.
Whenever you can attract 100 tech jobs, especially filling 45,000 square feet of space, it's a great opportunity for the city, he said.
They tend to be jobs that offer salaries above the median income, and come with benefits, he said.
Frederick has been known as a "cluster" for biotechnology jobs, but it is developing other types of technology jobs as well, he said.
"Little by little, we're also becoming a cluster for advanced technologies," he said.
Generally, lease rates in Frederick have remained fairly flat since the economic downturn, and demand has been tepid, Holbrook said.
But the Wilcoxon addition is a great opportunity for the tech park, which has about half a million square feet of space in six buildings on 44 acres, he said.
In September, St. John announced that a Royal Farms gas station and convenience store would be added to the tech park, as well as a second location for the Equipment Development Co.