Westview Business Park becomes home to its fourth church
Frederick News Post  |  Erika Riley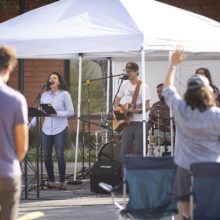 The office and warehouse space at 5103 Pegasus Court doesn't look like a church — which was the most appealing feature to Michael Bartlett, the lead pastor at Collective Church, when the team was searching for the congregation's new home.
Collective Church is only three years old and has been meeting in West Frederick Middle School since its inception. But as the church grew, it needed more permanent space to hold classes, workshops and group meetings. While Bartlett loved West Frederick Middle, he knew the church was outgrowing the temporary Sunday space.
That feeling was only amplified when the coronavirus pandemic began. While churches were permitted to meet in person with limited capacity by late May, those that hold worship in schools still cannot meet in Frederick County. The county's public schools are all still closed and are not permitting outside groups to use their spaces until November at the earliest.
"So we'd been looking for a long time, even during the pandemic, because we assumed that the school won't let us in until the fall," Bartlett said. "And that seems to be more and more the case every single day. So we came across a really good company to work with … and the timing seems to work out really well for us."
But Collective Church is far from the first church to use Westview Business Park as its gathering space. There are currently three other churches in the business park: Summit Trace Church, North Star Church and Iglesia Campamento de Dios (ICDD).
Rob Downs, the pastor at Summit Trace Church, said he doesn't consider their space at 5111 Pegasus Court, Unit F, to be the church itself. The church is its people, who were largely nomadic in nature for the first 18 years of the congregation's existence. During those years, Summit Trace met at the Westview Regal movie theater, Frederick Community College, Lincoln Elementary and Waverley Elementary School.
"It's not because it's a not a traditional building with a steeple, but the church is us. It's the people. And so this is our home, it's our meeting place," Downs said. "And when we moved in, we moved in with open hands, looking and hoping it would be a way to be able to share and serve the community, while it gave us some refreshment to have a safe comfortable attractive place that we didn't have to drag things in and out of from a trailer every Sunday morning."
Downs explained that a few years prior, the church merged with another organization, which owned land in Jefferson. Building a church from scratch was too expensive, so Summit Trace leaders decided to sell the land and use the money to lease a building.
They looked at both traditional churches and commercial spaces, but most of the churches were too small, and most of the commercial spaces would be complicated to transform into a space for worship.
But the unit they found was already perfect, as the last tenant had been a church. They only had to make minimal alterations to the space in order to get it ready.
While Summit Trace has not started holding meetings inside the church again, they have been using their outdoor space in the parking lot to hold services, as well as holding services online. The fact that the business park is largely empty on the weekends helps with the availability of parking and the ability to spread out.
"We chose to do the outdoor gathering because it gives the greatest degree of safety and still provided access for folks in our church that, because of their health or caring for someone else, would not be comfortable moving inside at this point," Downs said.
Collective Church also held an outdoor service to celebrate its third anniversary, but leaders don't plan to make it a regular occurrence. In order to make everybody feel safe, church staff handed out green, yellow and red bracelets that people would use to mark their comfort level when it came to interacting with people outside.
Green bracelets indicated comfort speaking in close proximity, yellow indicated a desire to keep a level of distance, and red indicated not wanting to be approached.
Collective also plans on holding a Halloween event for kids to trick-or-treat safely when many families might be apprehensive.
"This space allows us to do things like that, especially right now when it's like Halloween's not going to be the same and Thanksgiving's not going to be the same, and Christmas isn't going to be the same," Bartlett said. "So being able to be in a space beyond Sunday mornings gives us the opportunity to serve more of the needs of our city and to build more community."
The ability to meet outside a school also benefits in ways unrelated to the coronavirus pandemic. A separate space allows the churches to do more within their congregations and within the community. Downs said Summit Trace has been opening their building for Alcoholics Anonymous meetings and neighborhood learning pods.
Bartlett is also looking forward to speaking on a subject, such as mental health, on a Sunday morning, and then holding sessions throughout the week to further discuss the topics. They've also taken advantage of being able to use the space on Saturdays by holding a school supply drive.
"Not only can we do church in a space that's designed to do church, not designed to do basketball or for kids to eat lunch, we have more opportunities to serve the community because it's not just stuck in seven hours on a Sunday," Bartlett said. "So we can do more things during the week in order to build community and serve our community."