Fourth Dimension Fun Center to open by next summer
The Frederick News-Post  |  Erika Riley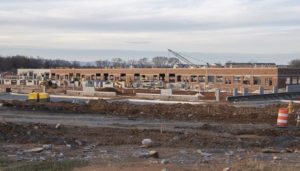 Fourth Dimension Fun Center will bring laser tag, bowling, an arcade, two escape rooms and a restaurant — all under one roof — to Frederick as soon as this summer.
Brian Holzberger, one of the co-owners of the Fourth Dimension Fun Center, sees a great need for family entertainment options in Frederick.
"We've got a lot of attractions that are for kids and a lot of attractions that are for adults, but there's nothing where the kids are involved but Mom and Dad are going to have a great time, too," Holzberger said. "So our goal, from concept, was to create a place where there's something that Mom and Dad are going to want to go back for, but there's something that the kids are going to want to go back for, too."
Even though Frederick County has bowling alleys, he sees a need. He said bowling alleys are often busy with leagues and it's hard to get a lane. The new entertainment center will operate more on a reservation basis, but also have lanes available for walk-ins.
The bowling alley will also feature modern pin-setting equipment that eliminates delays from malfunctions. Additionally, it will be surrounded by four TVs that will air live sporting events.
The arcade will be about 6,000 square feet and include crane games, skee ball and photo booths. Additionally, it will have an "XD Dark Ride," which Holzberger describes as "a motion simulation ride" with blaster guns that the riders will shoot at a 3D screen. There will also a laser maze with several different modes and settings.
The laser tag arena will feature two different types of blasters and 20 different game modes, including "Capture the Flag" and "Zombie Mode."
The restaurant will serve burgers, pizza, appetizers and salads, with 24 beers and eight wines on tap.
The business park, which is being developed by St. John Properties, consists of three buildings: two single-story buildings and one larger warehouse-style building. The Fun Center will occupy one of the single-story buildings. The Fun Center itself will occupy 37,560 square feet, and the corporate offices will occupy the remaining 7,500 square feet.
There will be plenty of parking in the business park, and sharing between the three buildings will not be a problem, Holzberger said.
"Their typical day is 9 to 5, whereas our day is going to be starting at 4 p.m. on a weekday," he said. "And then nobody is going to be around at the business park on the weekend, and we'll be rocking and rolling on the weekend."
The rest of the buildings in the business park are yet to be leased, which Matt Holbrook, regional partner for St. John, said is usual for a speculative builder. They were pleasantly surprised that Fourth Dimension has already signed a lease.This way, they can also make other changes to the building as it is being constructed to accommodate the fun center's needs.
"You can imagine how excited we are to kick it off with a tenant who is going to be starting it off in such a big and fun way," Holbrook said.
Holzberger is not necessarily concerned about competition, as District 40's only confirmed tenant is the Warehouse Cinemas movie theater.
"It's hard to say that we're competing with them, because they haven't really announced anything … they're actually doing," Holzberger said. "They have a concept but they don't have anything concrete anywhere, there's no lease in place. They're several years behind at least in that regard."
Each segment of the Fun Center will be owned and operated by Fourth Dimension. The center is expected to open next summer, pending construction timelines.
St. John has confidence in the project as well.
"It's going to be a great and big project. This is also the right product in the right corridor," Holbrook said. "The Route 85 corridor is where it's at these days."