TierPoint set to debut 35,000 sq.ft. data center near BWI, to meet growing demand
Baltimore Business Journal | Morgan Eichensehr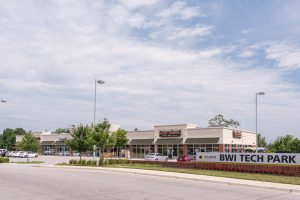 TierPoint LLC is gearing up to open its second Baltimore-area data center next month, as market demand for business data storage continues to grow worldwide.
The new 35,000-square-foot facility at 813 Pinnacle Drive in Linthicum Heights is scheduled to open Aug. 1. The first phase of the project has been under construction since January, and TierPoint put about $10 million into it. The facility was was plotted less than a year after TierPoint expanded its other nearby data center in Baltimore City in 2016.
Jim Weller, TierPoint vice president, said the company has already seen a lot interest in the new data center from potential client firms. One local company, Anne Arundel Medical Center, has already signed on to be one of the first clients to house its critical data at the center.
Data centers provide offsite storage, or colocation, for clients' computer systems and IT operations. These facilities are designed to securely house any company's data, and ensure that in the age where constant connectivity is a business necessity, a company's systems never "go down." Data centers mark a departure from the days of having an office full servers under desks or in closets, Weller said. St. Louis-based TierPoint has more than 40 data centers across the U.S, serving customers ranging from small local businesses to large, international companies across industries like health care, insurance and cybersecurity.
TierPoint is operating in a growth market. The global colocation market was worth about $30 billion in 2016, and is expected to grow to be worth $76.37 billion by 2022, according to market research consulting firm Stratistics.
"Ten years ago, if your company's email went down for five or ten minutes, it wasn't a huge deal," Weller said. "But in this day in age, if you have an outage, you're business is pretty much dead in the water."
The new TierPoint facility is located at the BWI Technology Park, a 44-acre project being developed by St. John Properties off MD Route 295 and Nursery Road. The developer constructed the building with custom features to meet strict regulatory compliance standards, including fully redundant and generator-backed power and multi-layer physical security. Two generators, equipped to handle the full load of the first phase data room, in case of any power outage events. And because there is a lag of about 10 seconds for the generators to power up — and TierPoint doesn't want customers to lose service for even that long — Weller pointed out there is also a fleet of car batteries on-hand, ready to fuel the servers during any lapse in power.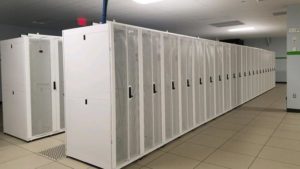 "Basically, we've got two of everything, lots of redundancies," Weller said. "We don't want customers' to ever be down for even a few seconds, so we have to be prepared for everything."
Rentable cabinets full of servers and other hardware will line the data center. The operation is set up in a room with a raised floor, under which cool air is pumped to keep the ever-running electrical equipment cool. TierPoint will use roughly 400 tons worth of air conditioning units for the first phase of the data center.
TierPoint's first local data center opened in 2005 on Russell Street, near Horseshoe Casino. The company expanded that facility by 3,000 square feet two years ago, and it now serves about 200 customers in 400 cabinets and cloud pods. Weller said the Baltimore facility is nearly at capacity and the new BWI Technology Park space will help TierPoint keep up with demand.
The first phase of the Pinnacle Drive center can hold up to 600 cabinets in a 13,000-square-foot data room, Weller said. Depending on the size and needs of a business, a customer could use anywhere between one to over 100 cabinets in the space, he said.
And the facility is already set up to grow with demand. Another 10,000 square feet of raised floor space is "ready to go whenever we need it," Weller said. There is space pre-designated for another room full of cabinets, additional air conditioning and two additional generators.
Weller said he expects the first phase build out will fill quickly, and TierPoint will continue to expand in the data center space.
https://www.bizjournals.com/baltimore/news/2018/07/19/tierpoint-set-to-debut-35-000-sq-ft-data-center.html