Skincare firm ditching Texas for Maryland
Daily Record  |  Adam Bednar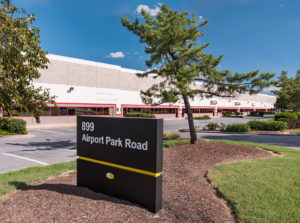 Skincare company Shankara plans to relocate its headquarters and manufacturing from Texas to Maryland.
The firm intends to move its operations this summer from San Antonio to space near Baltimore Washington International Thurgood Marshall Airport. Shankara leased roughly 8,200 square feet in the 70,000-square-foot building at the 899 Airport Park Road in the Cromwell Business Park, according to St. John Properties.
"First initiated by the need for a larger manufacturing facility, we concluded the company would be better served with an East Coast location that was within close proximity to a major port and airport," Ajay Tejasvi, Shankara's president, said in a statement. "Because our products are all-natural and sensitive to temperature swings, assuring expedited delivery is essential to maintaining its integrity."
The building at 899 Airport Park Road is a single-story flex/research and development property. It features 24-foot ceiling heights as well as dock loading. Overall Cromwell Business Park provides 19 office, flex/research and development buildings consisting of more than 820,000 square feet of space. The property is about 10 miles from Baltimore, roughly 20 miles from Annapolis, and 30 miles from Washington.
Lacey Johansson of St. John Properties represented the landlord in the deal, and Kate Jordan of Lee & Associate | Maryland represented the tenant.
Cromwell Business Park's location near the airport, as well as other transit hubs like the Port of Baltimore, Tejasvi said, made moving to the area attractive. Those facilities' proximity to those hubs make handling worldwide shipping logistics easier, he said.
Shankara also has "several top executives" who already live in the Washington area, Tejasvi said. The new facility provides those employees an easy commute. Roughly 15 employees will work at the building to start with, and additional hiring is expected.
At the end of last year, according to statistics from JLL, there were more than 10.3 million square feet of office inventory in the various submarkets around BWI.
The combined office markets surrounding the airport produced a direct vacancy figure of 15.3 percent at the end of last year, with an average direct asking rent of $26.52 per square foot and 118,614 square feet of new space in the pipeline.
By comparison the Central Baltimore County market, which includes more than 11.2 million square feet of office space in the Interstate 83 corridor and Towson area, produced a 10 percent vacancy, with an average direct asking rent of $22.47 and 320,000 square feet of new development in the pipeline.