St. John Properties signs new deal as it eyes more growth in St. Mary's County
Baltimore Business Journal | Melody Simmons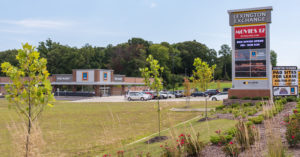 St. John Properties is further expanding into fast-growing St. Mary's County this year as part of a growth plan that began in 2019 aimed at government and tech contractors.
The Woodlawn-based developer is planning to expand its Lexington Exchange development in the small town of California off Route 4 near the Patuxent River Naval Air Station by just under 119,000 square feet — with plans to add up to 15 additional office and flex buildings in the 140-acre mixed-use business park in the coming years.
St. John's growth is part of the rural, remote and historic county's transition into a new office and industrial center linked to the air station and its sweet spot near the Washington, D.C., and Prince George's County market.
The company just inked a deal with American Systems, a Virginia-based government contractor tech company, to consolidate its office space in those areas at Lexington Exchange, with 25 workers moving into nearly 10,000 square feet at 23567 Oak View Drive by late October.
The suburban market sits about 40 miles south of Annapolis and has been in growth mode, with St. John Properties following suit, said Matt Lenihan, vice president of leasing, who brokered the American Systems deal for St. John. JLL's Matt Haas represented the tenant.
Lenihan said St. John plans to expand the Lexington Exchange in the coming year with three new buildings totaling just under 119,000 square feet. That will add to the existing 64,905-square-foot site that already holds tenants like German grocer Aldi and a movie theater.
"The nearby Naval Air Station Patuxent River remains a significant economic driver for St. Mary's County, as well as the commercial and retail components of Lexington Exchange," said Sean Doordan, executive president of leasing and acquisitions for St. John.
The new lease by American Systems will allow the Chantilly, Virginia-based group to add to its 17-office network across the U.S., officials said this week. The employee-owned company has more than 1,600 employees.
"The award of several new contracts and the subsequent need to recruit additional employees, has fueled the expansion of our St. Mary's County multi-office location," said Anthony Beamon, a vice president for American Systems, in a statement. "The space within Lexington Exchange emerged as the winner of our extensive search based on its extreme building flexibility containing both office and warehouse uses. The business community is also centrally located between our customer at Patuxent River Naval Air Station and the residential areas where a majority of our employees currently live."