South Moon Under moving headquarters from Eastern Shore to Annapolis
Baltimore Business Journal | Melody Simmons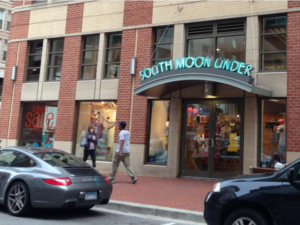 Baltimore (June 8, 2016) — South Moon Under, a contemporary clothing chain that started out in 1968 as a humble surf shop in Ocean City, is moving its headquarters from the Eastern Shore to Annapolis this summer to prepare for a national expansion that includes hiring a team of designers to produce an in-house brand.
Michael Smith, CEO of the retailer now based in Berlin with 75 employees, said Wednesday the new headquarters will be located in 20,000 square feet of space at Annapolis Corporate Park, the 28-acre St. John Properties Inc. development off the Harry S. Truman Parkway near Riva Road.
The move will be complete in August.
A majority share of the retail chain was bought in April by Columbia-based JPB Capital Partners.
"We're running a $50 million a year business and doing the day to day work now, getting ready to really start ramping up the growth rate," Smith said, adding that revenue is expected to grow to at least $100 million over the next seven years.
"South Moon Under has been a very solid brand, evolving from a surf shop to a women's fashion brand and they have grown over the years, but a slow pace," he said.
Those plans include increasing the number of stores from 24 today to 80 in six or seven years, Smith said. Some of the target locations for expansion include Jacksonville, Fla., Atlanta, Destin, Fla., Charleston, S.C., and Charlotte, N.C.
Smith, a former operations executive at the Baltimore startup White House/Black Market women's clothing store, helped to expand that company from 110 stores to 350 stores nationwide after the chain was bought by Chico's FAS for $90 million in 2003.
His wife, Patricia Darrow Smith, co-founded White House/Black Market in 1985 and will serve as chief creative officer at South Moon Under. Another former executive with White House/Black Market, Rod Olson, will join the South Moon Under team as chief operating officer.
"So we've been through brand building and we've been through growth," Smith said. "We looked at South Moon Under and saw the potential and liked the brand."
That includes marketing to women in their mid-30s, Smith said of the target customer for South Moon Under. The chain will also expand its offerings to "mother and daughter" wear with a casual design, much of it centered on beach or leisure wear.
"We also do a very strong swimwear business, but it's more than just a beach store," Smith said. "The three largest stores in the chain are Towson, Bethesda and Clarendon, Va. — not near water."
South Moon Under also has a store in Harbor East.
A big focus of the new push will be on e-commerce, Smith said, with internet sales projected to grow 25 percent in eight years.
Smith said relocation packages have been offered to all 75 employees of South Moon Under's Berlin offices. The company plans to hire 25 additional employees over the coming years, he added, to serve in creative, marketing and accounting roles.
South Moon Under's will retain its 20,000-square-foot distribution center in Salisbury.
"I think there's a big difference between how big we can be and how big we should be," Smith said of the expansion plans.
"Our goal is to grow the top line of the business, breaking into bricks and motor and e-commerce."
http://www.bizjournals.com/baltimore/blog/real-estate/2016/06/south-moon-under-moving-headquarters-from-eastern.html