St. John breaks ground at Leesburg Tech Park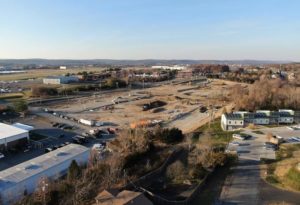 St. John Properties has broken ground on four industrial flex buildings in the Leesburg Tech Park at the intersection of Sycolin Road and Miller Drive. Slated for completion next summer, the buildings will total 160,000 square feet of flex research and development or industrial space, according to company officials.
St. John Properties acquired the 17-acre complex in 2016.
"The Leesburg Tech Park will provide Leesburg with the opportunity to meet increasing demands for quality space," Leesburg Economic Development Director Russell Seymour said in a prepared statement. "The growing business community will continue to fill important needs in our area, including providing local employment opportunities for our citizens."
Seymour said Leesburg currently lacks the available product to meet "present-day real estate requirements."
St. John Properties is constructing two single-story flex buildings spanning 41,040 square feet each, as well as a 26,520-square-foot and 51,120-square-foot building. All the structures will feature 16-foot clear ceiling heights, dock and drive-in loading and suite sizes beginning at 1,800 square feet. A free surface parking lot surrounds all of the buildings.
Matt Holbrook, the regional partner for St. John Properties, said the company "is extremely confident" in its Leesburg project due to "the tremendous fundamentals and economic drivers that remain unique to this region."
St. John Properties is a privately-held commercial real estate firm based in Baltimore.