JK Moving, St. John Properties team up for major Route 50 land purchase
Loudoun Times-Mirror  |  Sydney Kashiwagi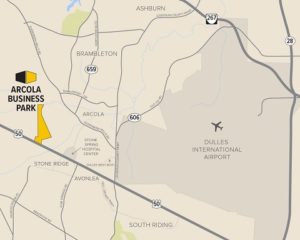 LOUDOUN COUNTY, VA (September 12, 2017) – Baltimore-based St. John Properties and JK Moving Services, the region's largest moving company, have completed the purchase of a $12.9 million, 104-acre parcel in the county's Route 50 corridor.
The Quail Ridge Farm property consists of 71 acres usable for development and mostly zoned planned development industrial park (PD-IP) with another portion zoned for residential use.
JK Moving Services' CEO Chuck Kuhn said that although there are no immediate plans for the property, the residential portion of the property is being retained exclusively by his company.
Kuhn told the Times-Mirror a study is being conducted on the residential portion of the land looking into the "development opportunity."
"We are going to develop the site. The specifics on exactly what we're going to do there and how soon we're going to do it are still in the planning stages, but a joint venture between St. John and JK will ultimately build out that site," Kuhn said.
Kuhn said the original plan for the Quail Ridge Farm property was a place to build JK's new corporate campus, but while the property was under contract they found a larger and more suitable place for its new campus.
They later brought on St. John Properties as a partner to develop the site. Kuhn said the joint venture between his company and St. John Properties is taking place on the industrial portion of the site.
Matt Holbrook, a regional partner for St. John Properties, said in a prepared statement that with the Quail Ridge property and others, his company is in a "prime position to play a significant role in development activity in northern Virginia for the foreseeable future."
"With the rate of consumption of commercial land elsewhere in Loudoun County, the Route 50 Corridor will be the next exciting place for growth in the coming years," Holbrook said. "There currently exists strong development in the area, as evidenced by various residential communities, retail centers and planned data center developments. This acreage is directly in the path of future growth."
St. John Properties has developed and has a number of a commercial real estate projects in the region. Some include Ashburn Crossing, a mixed-use business community in that will include more than 1 million square feet of new commercial office and amenity space; Ashburn Technology Park, comprising of approximately 450,000 square feet of space; Leesburg Tech Park, which is being developed for more than 160,000 square feet of space; and Loudoun Tech Center in Sterling, a project that supports approximately 130,000 square feet of space.
The company said it also has several other "pending transactions in process" as they continue to "explore more land opportunities in Loudoun and Prince William counties."
"Placing this acreage in the capable hands of St. John Properties is a significant win for Loudoun County area residents and local businesses," Buddy Rizer, the executive director of the county's Department of Economic Development, said in a prepared statement. "The company has an impressive track record and stellar reputation for delivering high-quality business environments that serve the real estate needs of companies in diverse industries. They support the local community and have always been receptive to County input."
The companies plan to announce its plans and a timetable for construction "in the near future."
http://www.loudountimes.com/news/article/jk_moving_baltimore_based_developer_team_up_for_major_rt._50_land_purchase