St. John Properties Acquires Seventeen Acres of Land in Leesburg, Virginia for New Business Park
Baltimore Bisnow | Jon Banister
Baltimore (December 7, 2016) — St. John Properties plans to speculatively build four flex-office buildings in Loudoun County, totaling 160k SF. The 17-acre piece of land (above), which it acquired from John Gudelsky for $3.34M, sits at the intersection of Sycolin Road and Miller Drive in Leesburg.
The developer will break ground on the first two buildings next summer with a delivery scheduled for spring 2018. SJP anticipates the project will cost around $28M. It has received some financing from Citizens Bank but will also provide its own equity.
Much of NoVa's new office construction is taking place near Metro and the upcoming Silver Line stations, but SJP regional partner Matt Holbrook says those aren't the only locations that work for office development.
"What makes a location like this work well is: it's got the right population and demographics and it's where the CEOs live," Matt, below on the left with Loudoun County's Ron Meyer and Buddy Rizer, tells Bisnow. "Combine that with the amenities and road networks, that's sort of the magic formula that makes a project like this do well."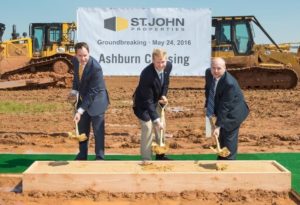 Still, other developers might have waited to get some pre-leases signed before breaking ground, but SJP has been building office on spec for 45 years, and Matt says they know how to get a building leased.
"We are spec builders to our core," Matt says. "When people can look, touch and feel it, and imagine themselves in it, they are more likely to sign a lease."
In May, SJP broke ground (above) on two similar spec office buildings in Ashburn totaling 90k SF, the first phase of the 1M SF Ashburn Crossing. The buildings are scheduled to deliver in March, and Matt says SJP has so far leased 10k SF to an undisclosed user.
As for the Leesburg project, the flex buildings will look like office buildings in the front and have loading in the back, Matt says, so they will be marketed more as office and R&D space than industrial warehouse space.
He expects to attract some traditional office users, high-tech companies, industrial users and community services. He suggests some tenants might be contractors for companies K2M and EIT, both headquartered in Leesburg.
Leesburg Economic Development director Marantha Edwards says the town has lost much of its flex-industrial space due to zoning changes and the recent opening of a 100k SF Lowe's Home Improvement store.
"That has created this kind of demand, whether it's a small industrial baker, whether it's a small brewer, a maker space, the flexibility in that industrial area is what we are desperately in need of," Marantha tells Bisnow. "This promises to be a great project."
https://www.bisnow.com/washington-dc/news/office/st-john-properties-to-build-160k-sf-of-flex-office-on-spec-in-leesburg-68523