Retailers Look To Industrial Buildings To Avoid Main Street Rents
Bisnow Washington, D.C.  |  Jon Banister
With retailers today deriving large portions of their business from the internet and looking for ways to cut costs, many tenants are beginning to migrate away from expensive main streets into properties that previously were reserved for industrial uses.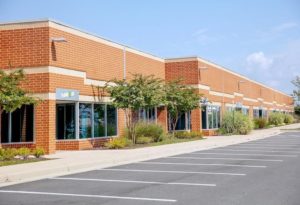 Brokers and developers who see this trend say the most likely retailers to make the shift are destination-type experiences, which don't rely on foot traffic, and sellers of products that need large showrooms and inventory spaces.
"The service industry showrooms, the tile, plumbing electrical and lighting companies, and the swim schools, dance and karate studios, those kind of uses have historically been in retail environments and now have been forced to move," KLNB Principal Kevin Goeller said. "They enjoy that move because they have parking, lower rent and a more suitable space."
Goeller, an industrial-focused broker based in Northern Virginia, has increasingly been working with his colleague, Brian Finkelstein, a KLNB principal who focuses on retail, as the two property types have begun to mix together.
"Kevin and I could team up on a property and I'd say, 'Hey Kevin, we don't need the back of this space, you go fill that with industrial users, and we're going to carve out the front of this property and make it a retail site,'" Finkelstein said.
Finkelstein said retailers are especially drawn to these properties because they cost less to rent than a retail space on a main street or in a mall.
"We're an expensive retail market," Finkelstein said of the D.C. area. "The closer you get to the core, the more expensive it gets, but the numbers are starting to rise further out … we're in a cycle where the users can't really afford some of the retail space."
In some cases, Goeller said, a retailer such as a dance studio had grown its business and was looking to expand to offer more classes, and an industrial property allowed it to triple its footprint and pay the same rent as its previous retail space.
Owners of industrial properties have begun to notice this trend and renovate properties to add windows and other attributes that appeal to retail tenants, Finkelstein said.
"It's not just the tenants saying, 'I don't need to be in retail, let's find something industrial,'" Finkelstein said. "It's industrial owners saying, 'This property feels like it could be more than this, how do we activate it?'"
One of these landlords is St. John Properties, a Baltimore-based firm that owns or manages over 20M SF of properties, a large portion of which are industrial assets. SJP regional partner Matt Holbrook said the company has several properties where industrial and retail tenants share the same building.
"We have a broad mix of tenants that make up a given building," Holbrook said. "In Loudoun County, we do indeed see cases where our buildings have a wide variety, but also have a higher concentration of tenants that might otherwise have gone into a retail building in the county."
Holbrook estimates that these retailers save between 25% and 35% on their rent per SF by moving from a retail space to an industrial property. He said some retailers today may be more willing to move to industrial properties than in the past because the internet and social media allow them to reach their customer base through methods other than a physical storefront.
"These days, with the proliferation of online advertising and targeted marketing, these tenants know how to find their customers," Holbrook said. "It's not as reliant on the drive-by as things used to be."
Breweries have also been particularly drawn to industrial properties because of the manufacturing component of their business. Holbrook said they make good neighbors for users like dance studios and karate studios, as parents often look for something to do while their children take classes.
SJP's Ashburn Technology Park includes Lost Rhino Brewing, East Coast Edge Dance Center, CJR Martial Arts and an ABW Appliances showroom, in addition to some more traditional industrial users. Its Ashburn Crossing property features Dynasty Brewing, Arthur Murray Dance Studio and Hidy Ochiai Karate.
"There's a critical mass associated with that," Holbrook said. "People know if they drive into a park they're going to find a tile shop, a dance studio, a brewery. It's a destination."
Holbrook said SJP has redesigned some properties to cater to retail users that need a showroom in front with warehouse space in the back for inventory and distribution.  "It hits a sweet spot for them," he said. "They get all that functionality of the retail frontage, and then in back it's warehouse space with a drive-in loading dock so they have the ability to distribute, have inventory and a showroom. The inventory piece doesn't fit well into retail, and the showroom part doesn't fit well into traditional industrial."
Some industrial owners have made modest renovations to buildings to draw retail tenants, while others have embarked on large-scale redevelopments, such as the Aviation Station project in Baltimore County.
Baltimore-based Blue Ocean in April acquired Middle River Depot, a 2M SF industrial building that served as an aircraft manufacturing plant during World War II.
The developer is planning to begin construction next year on a project that will convert the property into a mixed-use building with industrial, retail, office, hotel and sports and entertainment space. Blue Ocean announced in May it signed a lease with Coopermine Fieldhouse to open a 120K SF indoor sports complex at the property.
The company is looking to bring in restaurants, service-oriented retail and other retail users that require the attributes industrial buildings can offer.
"This project will be able to accommodate atypical retail needs, for instance users that need the benefits of warehouse space with high ceilings for logistics and traditional industrial loading while having a true retail front door with complementary retailers and retail foot traffic alongside them," Blue Ocean Chief Investment Officer Evan Gallant wrote in a statement emailed to Bisnow.
Holbrook said SJP would like to pursue more of these type of projects, but it can be difficult to find opportunities to construct new industrial space. Developers looking to build multifamily can typically outbid a company looking to do a flex-industrial project, and in Loudoun County, there is heavy competition from data center builders.
He said large pieces of land in Loudoun County with the right zoning designation have sold to data center developers for more than five times what a developer like SJP could afford as the basis for a flex-industrial project.  "The challenging part is you can't find any more land to do it," Holbrook said. "As everyone competes for land opportunities, if you're competing with residential or data centers, industrial has a hard time competing with those valuations."