Kondu restaurant to open this week at Harrisburg Mall with sushi burritos
The Patriot News  |  Sue Gleiter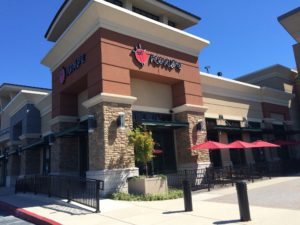 Harrisburg, PA (September 13, 2016) – Sushi burritos are the latest food mashup, and you can order them starting this week at Kondu.
The Asian restaurant opens Sept. 14 at the Harrisburg Mall in Swatara Twp. next to 2nd & Charles.
Walk in the door and place your order counter-style, similar to other popular fast-casual restaurants such as Chipotle, Noodles & Company and Qdoba Mexican Eats.
Kondu's menu could prove to be a challenge for those who adore Asian food. It's going to be hard to pick just one item.
Owner Ricky Chen said the goal is to present diners with typical Asian restaurant foods served quickly.
"It's more American style," he said.
Chen owns owns five Asian restaurants including Shogun Asian Fusion Hibachi & Sushi in Lower Paxton Township. He calls Kondu "the Japanese version of Chipotle or Panera Bread."
The sushi burritos take the intensely flavorful ingredients of sushi and roll them burrito-style, not in tortillas, but in oversized sheets of nori.
The Angry Bird is made with panko chicken, corn, carrot, lettuce, asparagus, peppadew, Kondu mayo, furikake and Sriracha. The El Torro is made from steak, pico de gallo, lettuce, jalapeno, red onion, baby spinach and eel sauce, while the No Name has spicy tuna, surimi crab, guacamole, cucumber, purple cabbage, eel sauce and honey mustard.
"At a typical Japanese restaurant you sit down and it is full service. There is really nothing quick serve and hand-held. You sit down and you really don't need any utensils," Chen said.
Another signature menu item is teppanyaki, basically hibachi cooked to-go with choice of vegetable, chicken, steak or shrimp.
"This is like hibachi but we wanted to do a quick-service. Typical Japanese steakhouse you sit down and wait for the griddle to heat up  … It is about a half-hour process before you can even eat. This is something we simplified. It's the same food," he said. "We wanted to do quick, fast cooking."
Diners can order sides such as edamame, seaweed salad and gyoza along with bubble tea in a rainbow of flavors. The restaurant seats about 50 diners.
In the future, Chen said he would like to open more locations of Kondu in central Pennsylvania. Most menu items are priced under $10.
The hours will be 10:30 a.m.-9 p.m. Monday-Thursday, 10:30 a.m.-9:30 p.m. Friday-Saturday and 11 a.m.-9 p.m. Sunday. Phone is 717-525-9738.
http://www.pennlive.com/food/index.ssf/2016/09/kondu_harrisburg_mall_asian.html