Checkers restaurant makes debut in Harrisburg region with burgers, fries and shakes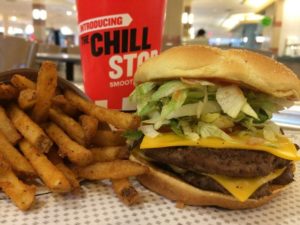 The Patriot News  |  Sue Gleiter
Harrisburg (October 27, 2016) — Checkers has arrived at the Harrisburg Mall in Swatara Twp.
Along with Subway and Taco Bell, shoppers can opt to order burgers, fries, milkshakes and chili dogs in the mall's food court.
The takeout restaurant opened Oct. 26, and is owned by uncle and nephew, Ken and Jimy Patel, who also operate Subway, Taco Bell, Pizza Hut restaurants in the region and Philadelphia.
"We were looking to do something different. We didn't want to get into such a common (fast food) burger," Jimy Patel said.
Checkers' menu is extremely flavor focused with highly seasoned foods. It's certainly not designed for those counting calories.
The Patels, who also operate the Taco Bell in the food court, said they surveyed shoppers and store owners about what restaurant they wanted to open in the food court. Many responded positively to a burger concept.
"We found out Checkers was something they wanted," he said.
The Patels said they liked the combination of burgers with sweet treats such as milkshakes, smoothies, ice cream cones and sundaes.
Checkers is part of Checkers and Rally's based in Florida and born out of a merger from the Checkers Drive-In Restaurants and Rally's Hamburgers. They operate 800 restaurants nationwide.
The closest Checkers restaurant operates in Reading. The chain has various formats including a double drive-thru concept offered at many locations.
The menu entails several burger choices, ranging from a Big Buford double cheeseburger with fixings to the Baconzilla with bacon and cheese and single patty Cheese Champ with fixings.
They also offer BBQ chicken sandwiches, spicy chicken sandwiches, classic wings, fish sandwich and chili dogs. Sweet treats rule the menu from loaded milkshakes in banana split and Oreo fudge flavors as well as strawberry cheesecake and Oreo fudge sundaes, apple pies and funnel cakes.
Prices start at about $7.69 for a combo burger with fries and a soda to $1.79 for a cheeseburger.
Checkers joins another newcomer, Kondu restaurant, which opened in September at the mall.
Checkers is open the same hours as the mall from 10 a.m.-9 p.m. Monday-Saturday and noon-6 p.m. Sunday.
http://www.pennlive.com/food/index.ssf/2016/10/checkers_harrisburg_mall_1.html#incart_river_index