Cirque Italia water circus coming to area
The Lititz Record Express  |  M. Hunnenfield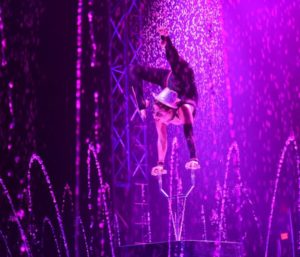 HARRISBURG, PA (September 6, 2017) — Cirque Italia, the first traveling water circus, will be bringing its Gold Unit to Harrisburg. The show is a luxurious experience where technology and performing arts are mixed to create a one-of-a-kind show.
The show will be held under the big top at Harrisburg Mall, near Macy's, 3501 Paxton St., Harrisburg, with shows Sept. 21 through 24.
The performance will feature an ultra-modern water curtain that controls every droplet of water meticulously. Cirque Italia is ready to provide a breathtaking experience. The stage by itself is enough to amaze the most demanding audience, and synchronized with the most creative display of superhuman talent.
Whether it's a futuristic laser act or mesmerizing aerial performances, the show has something for all tastes and expectations. One thing Cirque Italia sets out to accomplish is to create a type of world-class entertainment suitable for all age groups.
There are no animal performers in Cirque Italia.
To purchase tickets, visit cirqueitalia.com.