Fulton firm takes step toward cell, organ printing with new 3-D printer
Baltimore Business Journal  |  Morgan Eichensehr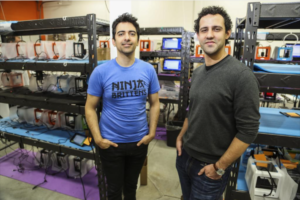 BALTIMORE, MD (July 21, 2017) — A Howard County company is launching its first commercial version of a 3-D printer, a move that marks the firm's first step toward a goal of creating an affordable bioprinter that can be used to produce cells and organs.
M3D's Promega printer has two cubic feet of build space and can be used by researchers or manufacturers to create 3-D parts or prototypes. It is the company's third and largest product and the first printer M3D has created designed for commercial use. The printer is expected to retail for about $3,500. CEO Michael Armani said ultimately M3D hopes to become a leader in bioprinting, or 3-D printing of biological materials like cells and organs that can be used for medical research and development.
The Promega, a model large enough to allow prototyping and cell production, is the first step toward that goal, he said. Next, the company will need to focus on creating an ink system that can print cells with high enough detail and resolution, then building a system that can deconstruct and reproduce cells.
"A product like that could help save lives," Armani said. "Researchers are always in need of affordable tools and we want to deliver something that can be used to create something life-changing."
The company was founded by two University of Maryland, College Park graduates with the goal of creating "really cool technology products," like 3-D printers, that were more affordable and easier to use than other products in the saturated tech market, Armani said. M3D is competing in a growing market that is set to be worth about $28 billion by 2020, according to reports from the International Data Corp. Its strategy: make printers that are advanced, efficient, adaptable, made in the U.S. — and sell them at a much lower price than the competition.
M3D retailed its at-home 3-D Micro printer at $349 and its new Promega will sell at about $3,500. Similar models can cost upwards of $4,000 or $6,000, Armani said, and early investors in the Promega model through crowdfunding could get it cheaper. The pre-order price is currently about $1,300.
"We're trying to be like the Apple of 3-D printers," Armani said. "We saw an opportunity to take complex designs for these devices and simplify and build an all-in-one system that we can assemble, curate and put all different programs available in one place, one button."
M3D designs, builds, ships printers and manages operations from its 12,000-square-foot headquarters in Fulton.
The four-year-old firm has not taken on any outside investments. Thus far, it has financed all of its work through crowdfunding. M3D made national headlines in 2014 when it raised $3.4 million through Kickstarter to create its the Micro. This year, the company launched its own crowdfunding platform, FitForLaunch, which helps the company raise money and interest for new products prior to their release.
In total, Armani said M3D has raised about $6 million through crowdfunding alone. The firm is currently collecting funds for its Promega, through pre-orders on its platform.
Armani said it has been nice being able to build whatever the company wants without having to answer to investors, but it is not ruling out outside financing for future endeavors. He said M3D will probably take on investments of a few million dollars when it starts working on the bioprinter.
If M3D can manage to produce an efficient, affordable bioprinter that is used and mentioned in medical research and development, it could be like "selling the shovel for the gold rush," Armani said.
"We have some lofty goals, but we're still young. All of the big-name companies people think of as game changers, it took them 20 or so years to get there," Armani said. "So I certainly think we're on a good track, it's just probably going to take some time."
https://www.bizjournals.com/baltimore/news/2017/07/21/fulton-firm-takes-step-toward-cell-organ-printing.html