1623 Brewing expands in Carroll County, buoyed by new distribution agreements
Baltimore Business Journal  |  Melody Simmons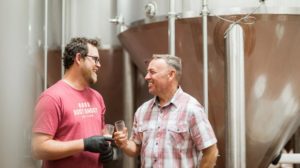 1623 Brewing Co. is poised to expand its home base in Carroll County this spring with 10 new employees and plans to grow its distribution in the mid-Atlantic.
The microbrewery, which opened in Eldersburg in 2019, seized an opportunity during the Covid-19 lockdown to go back to the drawing board and speed up a five-year growth plan over the coming 12 months, 1623 Brewing Co. president Mike McKelvin said Tuesday.
The company is planning to hire 10 new workers in the Baltimore suburbs and brew thousands more barrels of beer in the coming year as it moves into markets on the Eastern Shore and in Eastern Pennsylvania, including Philadelphia, Gettysburg and State College. Plans to expand into Northern Virginia and Delaware are next. The brewery currently employs 27 workers.
"We're looking at a significant increase in our home base as bars and restaurants in Maryland reopen," McKelvin said. "And with the new marketplace in Pennsylvania and the Eastern Shore, it more than doubles the production of what we're doing. This expansion is all about our distribution agreements."
Family-owned 1623 Brewing Co. recently signed distribution deals for the outer Maryland and Pennsylvania territories that will begin on May 1. The move prompted the company to kick up its brewing operation at the Liberty Exchange, where it now has capacity to produce up to 15,000 barrels a year.
A new lease with St. John Properties added 8,000 more square feet of space to the 11,000-square-foot existing operation at 5975 Exchange Drive. That space also holds 1623's sales and administrative offices, logistics space, a warehouse and a taproom that is just beginning to reopen to the general public as Covid-19 restrictions are eased.
The expansion brings with it a new wave of optimism.
McKelvin and his cousin, Zac Rissmiller, started the brewery in 2019 and last year brewed just over 1,800 barrels of beer. That is all about to change with the new distribution agreements and a steady increase in popularity for labels that include The Green Jacket, Jimmy Chop Corn, Tart Attack and Yellow Brix Road.
"The pandemic put a dent in our taproom attendance and sales to restaurants, which are both now returning to normalcy, but we more than made up for those declines in skyrocketing interest from package goods stores which represent 85% of our business," McKelvin said. "Our product line has been embraced by the regional market, and we fully expect to expand again in the near future as we continue to gain market share and add new products, including seasonal varieties."
McKelvin said the pandemic has had a devastating impact on the brewery's cash flow, but the company took it in stride and used the down time to plan for future growth.
"We saw an opportunity in the distribution market despite everything going on," McKelvin said of the past 13 months. "We had just opened our tap room in February 2020 and closed it a month later. But the liquor store market really boomed and we saw an opportunity there to grab shelf space. It became easy — and easier. That's what we learned as we grew and I think it's what helped us during the pandemic, which was unbelievably hard. It's been a tough year, but we're heading in the right direction."
Rissmiller, a former engineer at Lockheed Martin who started a second career as a brewmaster, was based in Elizabeth, Colorado, when 1623 Brewing first started. The cousins' company was named for the total mileage between that small town and Baltimore.
The 40-acre Liberty Exchange is located off Liberty Road and has a total of 200,000 square feet. St. John Properties broker Angelo Munafo represented the landlord in the lease deal for the expansion.