Columbia IT services firm moving HQ to Maple Lawn
MarylandInno  |  Joanna Sullivan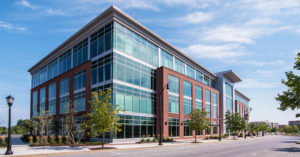 A growing Columbia consulting and IT services firm is making a move to Howard County's Maple Lawn development, a decision the CEO said was based on the complex's walkability and amenities.
ANALYGENCE has signed a lease with St. John Properties for 9,054 square feet of space within 8115 Maple Lawn Boulevard, a four-story,130,629-square-foot Class A office building in the Fulton development. The firm plans to relocate its headquarters — and 20 employees — from the nearby Columbia Gateway office park in the spring.
Bill Jautze of St. John Properties represented the landlord and Scott Mendelson and Kristin Rebeck of Edge represented the client in the lease transaction.
"We needed more space to support our growing company," ANALYGENCE CEO Lonnie Parker said on Monday.
The company has about 115 employees total, with the remainder in an office in Toms River, New Jersey.
Parker said the Maple Lawn headquarters represented the company's "brand and core values."
"Maple Lawn is also plush with amenities that our team members can take advantage of — most within walking distance," he said.
The residential, retail and office community from developer Greenebaum Enterprises includes a number of popular restaurants like Looney's Pub, Lib's Grill, Hudson Coastal and Ananda, as well as a Harris Teeter grocery store, a Residence Inn by Marriott and much more.
ANALYGENCE's growth has landed it on the Inc. 5000 fastest-growing privately held companies in America list in both 2019 and 2020. In April, the company landed a $20 million contract with the Department of Homeland Security. Clients include the Department of Defense, the U.S. intelligence community, federal civilian agencies and private-sector companies.