Houston public company bringing 370 jobs to Howard County's Maple Lawn
Baltimore Business Journal  |  Joanna Sullivan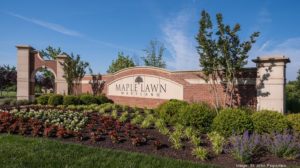 One of Houston's largest public companies is expanding its presence in Howard County with the creation of a Maple Lawn regional office that will employ about 370 people.
KBR, a technology and engineering consulting firm that works with NASA's Goddard Space Flight Center and other government clients, has signed a 65,000-square-foot lease at 8120 Maple Lawn Blvd., a four-story building comprising 103,755 square feet of Class A commercial office space.
The employees will come from the company's locations at Columbia Gateway and two locations in Prince George's County. KBR is closing an office at 7701 Greenbelt Road but will maintain its other two Maryland locations. It employs 1,700 people in the state.
Sam Heiber, a commercial real estate broker who represented KBR in the deal, said Thursday that the company was looking for its "office space of the future" — modern, sustainable space that would enable employees to enjoy nearby amenities such as retail and restaurants. Maple Lawn, a mixed-use community being developed by St. John Properties Inc. and master developer Greenebaum Enterprises, boasts all three — and features a mix of apartments, townhomes and single-family houses.
"This checked a lot of boxes, kind of the work-play aspect of Maple Lawn," said Heiber, of the brokerage firm Cresa. "Those were all aspects that were attractive there.''
The deal for the new office space off Maryland Route 29 in Fulton was also brokered by Cresa's Thomas Birnbach, Daniel Shapiro and Sebastian Arrivillaga.
"We are excited to see that a global company like KBR is expanding and continuing to invest in our state," said Maryland Secretary of Commerce Kelly M. Schulz in a statement announcing the deal. "With this consolidation, the company has shown its dedication to growing Maryland's business community by providing excellent jobs for our local workforce."
To sweeten the deal, the state Department of Commerce approved a $500,000 conditional loan contingent on job creation and capital investment, and the company is eligible for additional state assistance, including the Job Creation Tax Credit. The Howard County Economic Development Authority (HCEDA) has approved a $50,000 conditional loan as well.
The move to Maple Lawn coincides with KBR's (NYSE: KBR) move to focus on government and technology practices. In August, KBR initiated a business transformation to eliminate its Energy Solutions segment. When Stuart Bradie took over as president and CEO of KBR in 2014, some 80% of KBR's business was in oil and gas, he told the Houston Business Journal, a sister publication, last year.
KBR has been steadily growing its government services segment and bolstering its Maryland presence. In 2016, the company acquired Columbia-based Honeywell Technology Solutions Inc. and in February 2018, it bought Stinger Ghaffarian Technologies Inc., a Greenbelt-based government contractor that specializes in NASA contracts, for $355 million.
KBR is No. 27 on the Houston Business Journal's 2020 Largest Houston-Based Public Companies List, based on its 2019 revenue of $5.64 billion. It was formerly a subsidiary of the energy giant Halliburton.
The Howard County location puts KBR near a plethora of government contractors and agencies, including the Johns Hopkins Applied Physics Lab and the National Security Agency. Maple Lawn's business district includes Raytheon Solipsys, Cisco Systems, New Day USA, MOSAIC Technologies Group and Window Nation.