Colorado's 1623 Brewing Co. coming to Eldersburg's Liberty Exchange
Baltimore Business Journal  |  Melody Simmons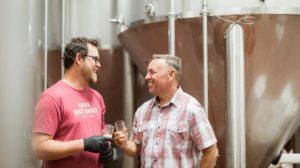 Two cousins are expanding their brewery business from Colorado to Eldersburg.
1623 Brewing Co. is getting ready to open a second location on the East Coast in 11,000 square feet at Liberty Exchange, a single-story industrial park owned by St. John Properties.
Ten new jobs will be created in the Carroll County town and the operation will include a taproom and sales and administrative offices.
The company is named for the mileage between Maryland and Colorado, said Zac Rissmiller, head brewer, who started the business last year with his cousin, Mike McKelvin, a Westminster resident. The company's first operation opened in Elizabeth, Colorado, a small town located between Denver and Colorado Springs and now includes six brews.
1623 has been contract brewing out of DuClaw Brewing Co. in Rosedale and its beers are available in the state.
"We are ready to take 1623 Brewing Company to the next level with a distribution model designed to transform the company into a regionally-based brewery," McKelvin said.
The company's brews will be distributed in Maryland and Pennsylvania, Virginia, West Virginia and Washington, D.C., McKenzie added. They include an India pale ale, pilsner and dry Irish stout.
Liberty Exchange is located on 40 acres off Liberty Road. The development totals more than 200,000 square feet of space.
The 1623 Brewing Co. will open its brewery at 5975 Exchange Drive. Will McCullough, a leasing representative for St. John Properties, brokered the deal.