Pepperjacks and its subs, shakes and boardwalk fries expands to Annapolis Junction
Baltimore Business Journal  |  Melody Simmons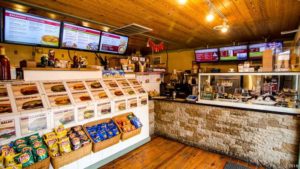 A small family-owned sub shop that has an endearing built-in ice cream parlor will soon open its second location at the Annapolis Junction Town Center.
Pepperjacks Subs will bring its cold cut, chicken mozzarella, BLT and stromboli sandwiches — to name a few — to the Howard County development this fall. The new shop will be located at 10170 Junction Dr.
The eatery offers 30 types of sub sandwiches, milkshakes and boardwalk-style fries. A breakfast menu offers 15 varieties of egg sandwiches. In the evening, the store converts to an ice cream parlor. The small chain has its roots in Scaggsville near North Laurel where it first opened in 2003 off of Route 216 and prides itself on being a small, old-fashioned destination.
"Our original location has a classic country style with hardwood floors and old-time finishes," said Andrew Granzow, Pepperjacks' founder. "Our goal is to replicate this character."
Graznow said the popularity of the Laurel Pepperjacks encouraged his family to expand to the growing suburban development by St. John Properties and Somerset Construction Co.
He said the recent move of Verizon Wireless from Laurel to Annapolis Junction will allow the new Pepperjacks to lure its loyal customers into the new shop.
Verizon recently signed a lease for 61,000 square feet of office space at 10170 Junction Drive. That four-story building includes 5,420 square feet of retail space where Pepperjacks will open alongside a branch of Baltimore Coffee and Tea.
"We consider the area surrounding Annapolis Junction Town Center a food desert, and believe we have a strong opportunity to seize the lunchtime traffic throughout a large radius, including the Fort Meade region," Graznow said.
Annapolis Junction Town Center is located in southeastern Howard County off of Route 32 near the Savage MARC station. The development is about a mile from Fort George G. Meade and the NSA.
"Pepperjacks Subs is an iconic destination for residents and businesspeople in the Baltimore-Washington, D.C. corridor, and attracting family-owned restaurants creates differentiation within our retail centers and mixed-use projects," said Richard Williamson, senior vice president of leasing and marketing for St. John.
Bill Holzman, vice president of retail leasing for St. John inked the deal with Bill Harrison and Austin Eber of Lee & Associates, who represented Pepperjacks.
https://www.bizjournals.com/baltimore/news/2018/07/23/pepperjacks-and-its-subs-shakes-and-boardwalk.html