Annapolis Junction Town Center adds Pepperjacks Subs to retail tenants
The Daily Record | Adam Bednar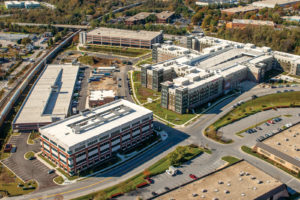 Family-owned Pepperjacks Subs has leased space with St. John Properties Inc. at the transit-oriented Annapolis Junction Town Center near the Savage MARC station in Howard County.
The eatery, which features offerings including signature sandwiches, store-baked French baguette bread, and milk shakes, is Pepperjacks Subs' second location and is expected to open this fall.
"Our Scaggsville restaurant is operating extremely efficiently, and we reached a point where we have more time and expansion became a realistic possibility," Andrew Granzow, one of the restaurant's owners, said in a statement. "We consider the area surrounding Annapolis Junction Town Center a food desert, and believe we have a strong opportunity to seize the lunchtime traffic throughout a large radius, including the Fort Meade region."
Bill Holzman, St. John Properties vice president of retail leasing represented the landlord. Bill Harrison and Austin Eber of Lee & Associates Commercial Real Estate Services represented the tenant in the deal.
Earlier this year Holzman discussed how restaurant space in live, work, and play settings has been a bright spot for a retail sector that has faced its share of struggles in recent years.
"When office tenants are looking for space the first question is about rent. The second is, 'Where can we eat?'" Holzman said in April.
MacKenzie Commercial Real Estate Services report on the Baltimore metro area retail sector's second quarter performance found there were more than 8.2 million square feet of retail in the area around Fort George G. Meade with a 4.2 percent vacancy rate, which is up from 2.9 percent the prior year. The rise in vacancy is primarily due to new deliveries as rents in the area increased from $21.72-per-square-foot the year before to $23.75-per-square-foot in the second quarter.
A 700-space commuter parking garage is expected to be delivered this fall at Annapolis Junction Town Center. Last summer Somerset Construction Co. delivered the 416 unit luxury apartments at The Residences at Annapolis Junction.
Verizon Wireless also signed a 61,000-square-foot lease in February in a four-story Class A office building at the development. An additional 14,000 square feet of retail space is planned.
https://thedailyrecord.com/2018/07/23/annapolis-junction-town-center-pepperjacks/