Circle of Excellence President's Club Award Presented to David & Amber O'Brien and Krystle Molite, Owners of The Goddard School located at Baltimore Crossroads
Carroll County Times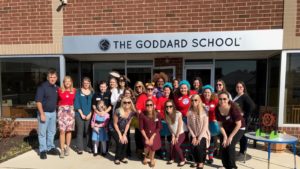 Baltimore (December 19, 2016) — David and Amber O'Brien and Krystle Molite, owners of The Goddard School® located at 4960 Mercantile Road in Baltimore, MD, have been awarded the Circle of Excellence President's Club Award by Goddard Systems, Inc. (GSI), franchisor of The Goddard School.
The award acknowledges Goddard School owners for being exceptional in the areas of quality assurance and health and safety and for being in the top twenty percent of Goddard Schools all throughout the country.
The O'Briens, Molite and their team believe that teacher accountability and adhering to health and safety policies and procedures helps to create a great work environment.
"It's an honor to be recognized with this prestigious award," said David.
"Our goal has always been to offer families only the best possible environment for the care and education of their children," Amber added.
The O'Briens also own The Goddard School located in Forest Hill, and The Goddard School located in Middle River which is their newest location. The location is off of exit 67 fully-equipped with three new playgrounds, indoor gym with a climbing wall and play-based equipment. Come in for a tour to see the difference a Goddard education can make for your children.
To learn more about The Goddard School, please call David, Amber or Krystle at 410-933-3833 or visit www.GoddardSchool.com/White-MarshMD.
http://www.carrollcountytimes.com/yourcarroll/cct-ugc-article-circle-of-excellence-presidents-club-award-p-2016-12-20-story.html