Pooles Island Brewing Co. to open in Baltimore County this fall
The Baltimore Sun | Wesley Case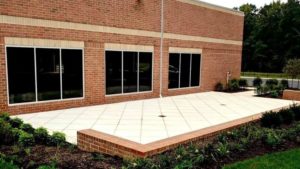 A new craft brewery, Pooles Island Brewing Co., plans to open in Middle River in late November.
Named after the Maryland island in the Chesapeake Bay, Pooles Island plans to brew a wide variety of beer styles, said partner Scott Donnelly. The brewery's ownership group includes Donnelly, his wife Monica Donnelly, David Cahlander and Roger Bedard. The four are friends with a passion for beer, Donnelly said.
"We're really trying to create a space and an outdoor space to make it a fun, cool place to be," Donnelly said.
The approximately 10,000-square-foot operation, located at 11695 Crossroads Circle, will feature a taproom and patio space that will seat between 150 and 200 people, said Donnelly. The plan is to open Thursday through Sunday in the beginning, and expand operating days from there, he said.
Led by brewer Patrick Jones (formerly of Byway Brewing Co. in Indiana), Pooles Island's beer program will feature six to eight core beers brewed on a 15-barrel system, Donnelly said, though they're still determining the exact styles. He's excited to try experimental styles on Pooles Island's two-barrel pilot system as well.
"We're looking to get creative," Donnelly said. "We're willing to try anything. You've got to do something weird every once in a while."
The space, which is located within the mixed-use development Greenleigh at Crossroads, does not have a kitchen, so Pooles Island plans to host a rotation of local food trucks, Donnelly said.
Construction should begin later this week, he said.