Two growing companies sign leases at new Greenleigh office building
Melody Simmons  |  Baltimore Business Journal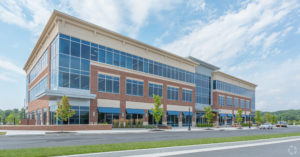 Two office leases at Greenleigh in Middle River will fill nearly a third of a new office building that just opened at the Baltimore County development.
Medical benefits company Smart Care LLC is more than doubling its existing footprint at the development and will move into 19,000 square feet at 6211 Greenleigh Ave., the newly built, four-story office and retail project. In addition, Samson Properties, a Virginia-based residential brokerage with offices in Belair and Columbia, just signed a deal to lease 10,000 square feet of space and bring 300 new full and part-time brokers to the site.
The deals are the first two leases at 6211 Greenleigh Ave., which has a total of 99,504 square feet of Class A office space just off Route 43 near the main entry to Greenleigh. The planned community is being developed by St. John Properties and Somerset Construction Co.
The deals are the latest at the mixed-use project that aspires to mimic the Maple Lawn development in Howard County.
Toolmaking giant Stanley Black & Decker in 2018 leased 77,000 square feet at Greenleigh in a corporate expansion. Later that year, a 120-room Marriott SpringHill Suites hotel opened. When built out, Greenleigh will hold close to 4 million square feet of commercial and retail space and dozens of single-family homes and townhouses.
For Smart Care and Samson, both office leases come amid significant growth at the respective companies.
Smart Care's large Medicare Advantage enrollment center is rapidly expanding and the company is moving from its existing 6,400-square-foot space at 11615 Crossroads Circle in Greenleigh into the new digs, said Matt Lenihan, vice president of leasing for building owner St. John Properties, on Tuesday.
The company has been a tenant at Greenleigh since 2018 and also has offices in Orlando, Florida and Fort Worth, Texas.
"Our operation has doubled in size over the past year and we fully expect to quadruple our business in the near future so this expansion was critical to our company," said Mike Valenti, managing partner for Smart Care, in a statement.
Donny Samson, CEO of Samson Properties, said his lease also comes amid a business expansion.
"After achieving tremendous success with the opening of our Belair and Columbia offices, we looked at the White Marsh and Middle River area as the site for our next conquest," Samson said Donny Samson, in a statement. "Over the past several months, we have recruited and subsequently hired many talented real estate professionals and several skilled managers which provides us with confidence to quickly achieve significant market share in the greater Baltimore area."
Samson Properties has 3,600 workers in 30 mid-Atlantic offices, 10 located in Maryland. It was founded 21 years ago and also runs the Cardinal Title Group.
"After touring eight to 10 properties in Baltimore County, we believe Greenleigh offers the type of energy and freshness that we wish to be a part of. It is close to both the city and Harford County and the community provides room for growth and opportunity based on the plans for future residential development," Samson said.
Lenihan represented St. John in both lease deals.