ATS celebrates opening of new offices in Middle River
The Daily Record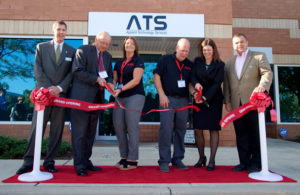 MIDDLE RIVER, MD (October 24, 2017) — Applied Technology Services Inc. welcomed customers, partners, state officials and politicians Sept. 27 for a ribbon-cutting ceremony to officially open its new offices at 11615 Crossroads Circle, Suite J, in Middle River.
The small, women-owned, minority IT systems integrator that serves as a trusted partner to education, state and local government organizations throughout Maryland moves into the new location which features approximately 5,000 square feet of flex space, including an attached warehouse within St. John Properties.
State Sen. J.B. Jennings, R-Baltimore and Harford counties and Rick Robinson, a business development representative with the Baltimore County Office of Economic and Workforce Development, participated  in the ribbon-cutting ceremony. The pair gave ATS citations for exceptional service, one from the Maryland Senate and one from Baltimore County Executive Kevin Kamenetz.
Jennings spoke about the exciting growth and development happening throughout the Route 43 corridor and Johnson congratulated ATS on its growth and commitment to Baltimore County. ATS President Danielle Burnett added she was honored that so many customers and partners were able to take the time to celebrate the next step in the company's journey.