110 First Home Mortgage employees headed to new offices at Greenleigh
Baltimore Business Journal | Melody Simmons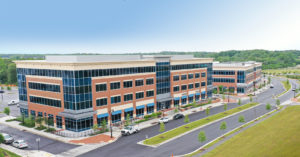 First Home Mortgage Corp. has leased nearly 20,000 square feet of space at Greenleigh for a new headquarters — and aims to take advantage of Baltimore County's hot residential market.
The mortgage lending firm is set to move into the new offices at 6211 Greenleigh Ave. in the coming months. The lender's deal includes 17,048 square feet at the four-story 6211 Greenleigh Ave. for its corporate offices and 2,319 square feet nearby at 415 Williams Court for the firm's tech department's offices.
The move will add to what is a growing residential real estate business center at the 1,000-acre Greenleigh development.
Coldwell Banker Realty this year opened an office there with about 60 new employees and Virginia-based Samson Properties also committed to moving into 6211 Greenleigh Ave. in a 10,000-square-foot space by January. The group is expected to have close to 300 part-time and full-time brokers work out of that office.
Much of that growth is because of the county's strong housing market, officials of the companies have said. The mixed-use Greenleigh itself will hold 1,900 residential units when built out in about five years, and sales and mortgage opportunities exist there, as well.
First Home President Steve Lagana said the move to Greenleigh was made because of its location off Interstate 95 and in response to the red-hot suburban residential market over the past year. New data released this week showed the median sales price for a home in the Baltimore metro area was $340,000, a 6.3% increase over September 2020.
"The velocity of the residential housing market in Baltimore County has created the need for additional space to handle the demand," Lagana said, in a statement.
First Home Mortgage operates 23 offices throughout Maryland including three in Baltimore County. First Home also has a lending office in Anne Arundel County in the I-97 Business Park, also owned by St. John.
The Class A, 99,504-square-foot development at 6211 Greenleigh Ave. is an office anchor at the project that kicked off in 2017. The single-story flex building at 415 Williams Court has a total of 25,045 square feet