Baltimore's Living Classroom Uses Hands On Education to Empower
The AFRO-American  |  Jennifer Wright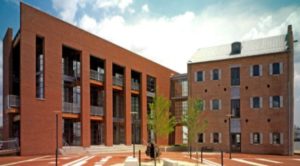 BALTIMORE, MD (June 3, 2017) — The Living Classrooms Foundation has a been a gem in Baltimore for over 30 years. What started as one program in Baltimore has expanded to dozens of programs across the Baltimore-Washington Metropolitan Area including Living Classrooms' Target Investment Zone (TIZ).
The TIZ is a comprehensive community initiative to eliminate the cycle of poverty across neighborhoods in East Baltimore. The TIZ accomplishes this through multi-generational educational, workforce development, and health and wellness programs across East Baltimore, including The Crossroads School, the POWER House, and the UA House.
TIZ is home to 35,000 people, 18 schools, and approximately 2,500 public housing units, including Perkins Homes and Pleasant View Gardens. These neighborhoods struggle with high poverty and unemployment, high crime and chronic health problems.
The programs and services are implemented according to the needs of the community using Living Classrooms Stat, which measures, monitors and evaluates these needs.
A lot of this would not be possible without generous donations from several corporations throughout Maryland, including the financial giant Legg Mason. Legg Mason has recently pledged $1 million to help finance the programs and services offered at the POWER House for the next four years.
Legg Mason has been a financial partner of Living Classrooms for decades.
The POWER House is a hub for Perkins Homes—Baltimore's largest public housing community—and serves the residents with educational, job training and other services.
The POWER House is an acronym for Providing Opportunities to Work, Expand, and Rise.
"As Legg Mason extends its commitment to investing in Baltimore, it was natural to build on that success," said Joseph Sullivan, Chairman and CEO of Legg Mason. "Our mission, 'Investing to Improve Lives' means we are dedicated to improving the lives of the multiple constituencies with whom we interact: clients, financial stakeholders, employees and communities.   That's a high standard and one to which we are proud to be accountable.  We cannot succeed without the leadership and commitment of partners like Living Classrooms.  Through true partnership with multiple committed stakeholders, we can build a foundation for the young people of this neighborhood to succeed and contribute to the success of this vibrant city."
James Piper Bond, president and CEO of Living Classrooms Foundation, thanked the company for its commitment.
"We are very grateful to Legg Mason for providing generous support of our mission to disrupt the cycle of poverty in East Baltimore by becoming the Champion of the POWER House Community Center and investing significant funding and volunteer engagement," said Bond. "Partnerships like these, incorporating the investments of the public and private sectors, empower the success of the children and families in Perkins Homes, the Target Investment Zone, and beyond."
The POWER House offers exemplary educational resources with a focus on higher academic achievement, graduation rates, and readiness for post-secondary school. This community hub also provides adults with GED testing services, financial literacy, English as a Second Language, and job training skills.
Another community hub within the TIZ is the UA House, a $5 million facility funded by Cupid Foundation, a private foundation of Kevin Plank, founder and CEO of Under Armour.
The UA House boasts a field house, a yoga and dance studio, recording studio as well as a neighborhood kitchen—providing meals for those in need.
The site is also a Maryland State Department of Education 21st Century Community Learning Center.
Also in the TIZ is the Crossroads Schools, which finally received a permanent home this school year.
The Crossroads School is a top-rated middle school now located in Harbor East. The new building was made possible through a generous $800,000 donation from the Edward St. John Foundation. After 12 years of operating out of temporary trailers, the new school has 12 classrooms serving 162 students who have benefitted from increased technology such as smart boards.
"We are proud to support the great work of the Living Classrooms' Crossroads School," said Edward St. John, chairman and founder of St. John Properties.  "I firmly believe that education has the power to transform lives and strengthen communities.  It provides the foundation for success.  Through this new middle school, the students will now have the advanced learning and teaching space that they deserve."
In its 13 years of operation, Crossroads has maintained its status of being one of the top performing middle schools in the city and state. In 2002, when Crossroads first opened its doors, it welcomed some of East Baltimore's most disadvantaged students, many failing below in reading and math. Now deemed as a Strand I school, Crossroads students outperformed every district on the PARCC tests in 2015 and has the highest scores in Baltimore City for eighth grade math. One hundred percent of its graduates are accepted either into public or private college preparatory schools.
"I would not be the student or person I am had I not attended The Crossroads School," said Najee Rollins, Crossroads alumnus and recent Denison University graduate.  "Coming from a rough neighborhood in Baltimore City, I appreciate the attention I received from Crossroads' teachers who nurtured me as a student and prepared me for the rigor I have faced academically since then."
Living Classrooms Foundation's mission is to strengthen communities and inspire young people to achieve their potential through hands-on education and job-training, using urban, natural, and maritime resources as "living classrooms."
Baltimore's Living Classroom Uses Hands On Education to Empower