Take a look inside UMd.'s newest classroom building, named after developer Edward St. John
Baltimore Business Journal  |  Melody Simmons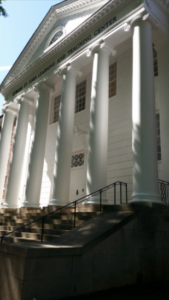 COLLEGE PARK, MD (May 11, 2017) — The bucolic and famous green that runs through the University of Maryland College Park campus got a new look this week.
The Edward St. John Learning and Teaching Center was dedicated Thursday morning with 12 new high-tech classrooms and nine chemistry labs that are expected to hold upwards of 12,000 students a day.
The 187,000-square-foot center cost $120 million and will allow university officials to continue a push to renovate and update dozens of other existing classrooms on campus.
St. John, founder and chairman of St. John Properties in Woodlawn, donated $10 million of his personal fortune to his alma mater for the project. He graduated in 1961 with a degree in engineering.
"When I was a student, the instructor would stand in the front of our un-air-conditioned classroom dictating their lecture to a class of 200 plus for about 55 minutes," St. John said Wednesday. "Today, faculty will dictate their lectures in advance of class for students to see on their iPads, iPhones or other connected devices.When they get to class the faculty member will be the facilitator of learning and problem solving. The technology in the new learning and teaching center will greatly enhance the overall learning and teaching environment for the students and faculty."
The center was designed by Baltimore's Ayers Saint Gross, who welded the existing, staid Holzaphel Hall that fronts the mall seamlessly into a new portion forming a massive structure for undergraduate education.
Holzaphel Hall has stood on the mall green for decades. It was built in 1934 and now has been renamed, rebranded and redesigned as part of the project that has been three decades in the making, said Hilary Gossett, assistant director for academic facilities at College Park.
"These new classrooms have high definition projection screens and projectors, enhanced cameras, wireless sharing and glass boards," Gossett said, during a tour this week. "And the chemistry labs are state of the art."
The Edward St. John Learning and Teaching Center took nearly three years to build. It has floor-to-ceiling windows in most classrooms and hallways, two green roofs (one to be used by students for study), four cafes, student lounge areas and seven "huddle rooms" for small conferences that appear as glass blocks in hallway space.
Classes are to officially open May 30 for the summer semester, Gossett said. Come fall, thousands of other undergrads are expected to begin general education classes like psychology, chemistry and math there.
"It makes a strong connection on our campus," Gossett said. "It's going to be an active learning center."
St. John said he met with UMCP President Wallace Loh years ago to discuss making a large personal gift to the institution.
"He shared his vision for the University of Maryland with me which included his number one priority – a new learning and teaching center located in the middle of the campus. When I learned that funding allocated for the project by the state required a leadership gift in order to guarantee the project's future construction, I made the commitment to donate," he said.
After a personal tour of the center on Monday, Gossett said St. John told her that he was impressed. The center of the building is punctuated by a large red staircase and the classrooms are wide and airy, some with learning stations set up for groups of six students each and others with tiered lecture space. There is a central instructor's space in all with gadgets needed for wireless learning for a generation that knows nothing less.
Most of the ceilings are 20-feet and floor-to-ceiling windows allow in bright natural light.
"Today's students are faced with global challenges that are different from when I was a student.They must gain expertise in their fields but also learn to work across disciplines, distances and cultures to bring innovative solutions," St. John said. "To accomplish this, the students and faculty needed a new kind of classroom."
The classrooms are set up to promote a current trend in academics, teaching collaborative problem solving. In College Park, it's called TERP, which stands for "teach, engage, respond and participate," Gossett said.
"This project allowed us to re-imagine our existing space," Gossett said, adding that faculty had for years asked for updated teaching spaces in annual surveys.
Work on 35 existing, older classrooms will begin this summer, she added, as part of an overall master plan for the sprawling flagship campus of the University of Maryland System.
http://www.bizjournals.com/baltimore/news/2017/05/11/developer-edward-st-johns-10m-gift-to-umd-opens.html