187,000 SF Edward St. John Learning And Teaching Center Dedicated At University Of Maryland Campus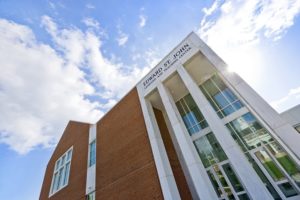 Citybizlist  |  Baltimore
$10 million gift from founder of St. John Properties, Inc. facilitates construction of first building on McKeldin Mall in more than 50 years, and integrates new national model of collaborative learning
COLLEGE PARK, MD (May 15, 2017) — Nearly 300 Maryland politicians, University of Maryland officials and students, business executives and members of the community participated in the dedication of the Edward St. John Learning and Teaching Center on the campus of the University of Maryland at College Park recently. Named for Baltimore-based developer, philanthropist and 1961 alumnus, Edward St. John, founder and chairman of St. John Properties, the 187,000-square-foot building includes 12 classrooms, nine teaching labs and 1,500 seats, and is expected to impact the education of more than 12,000 students on a daily basis.
"It's exciting that the vision for a space that will transform the classroom experience and shape the way faculty teach has come to fruition," said St. John '61, D.P.S. '12 (Hon.), who donated $10 million toward the building's construction. "This center will create a new and innovative standard of teaching that accelerates interactive learning and will elevate the culture of collaborative learning on campus for years to come."
Reciting quotes attributed to Benjamin Franklin, Mr. St. John explained the impetus behind this collaborative and interactive learning style that will be present throughout the building. "Tell me and I forget," he began. "That is the format I experienced while attending classes in large lecture halls nearly sixty years ago. Teach me and I remember, is reflective of the small labs contained throughout this building that will facilitate learning," he continued. "Involve me and I learn, represents the true power of this building given the state-of-the-art technology that will draw students into the learning process. This building unlocks learning and increases the potential of all students."
Focused on a student-centered approach to learning and teaching, the center features labs, informal study spaces, group study rooms, and technology-enhanced TERP Classrooms with flexibility such as tiered seating, mobile desks and swiveling chairs that encourage active learning and collaboration. TERP is an acronym for Teach, Engage, Respond and Participate, which helps explain the fundamental principles of the design. Other unique features include four food spaces and two green roofs, one of which is intended for instructional use.
"The St. John Center will hasten the transformation of our learning and teaching for generations of students," said University of Maryland President Wallace D. Loh. "Its classrooms and teaching labs will give our faculty the flexibility and technology to perfect their art. Edward St. John and the state have made a magnificent contribution to campus excellence."
The center will also house the university's Teaching and Learning Transformation Center, the main hub for the Academy for Innovation and Entrepreneurship, and the Division of Information Technology's Academic Technology and Innovation team.
The center is a key example of how architecture can drive the function of a building. "The inspiring classroom designs in the Edward St. John Center challenge faculty to teach and students to learn in ways that research has shown work better than traditional lecture methods," said Mary Ann Rankin, UMD's senior vice president and provost. "It will enable the transformation of teaching and learning in a fundamental way."
Innovative TERP Classroom designs in various rooms include features like round tables or a tiered structure, which allows students to move seamlessly from lecture to discussion mode, promote group interaction and problem-solving. The classrooms also feature technology that encourages wireless screen sharing, making it possible for students to collaborate with their peers in classes of all sizes. Both formal and informal meeting spaces throughout the building give students space to study together and work on group projects. A dedicated Loft space in the center will support innovation and entrepreneurship.
The Edward St. John Learning and Teaching Center represents the beginning for enhancing collaborative learning at UMD. There are currently 10 active learning prototype spaces on campus, and Provost Rankin has committed to converting more classrooms on campus to active learning spaces.
Centrally situated between Campus Drive and McKeldin Mall, the Center was built at the former site of Holzapfel Hall and Shriver Laboratory. This dynamic academic space is part of the university's Greater College Park initiative, a $2 billion public-private investment to revitalize Baltimore Avenue and the academic campus. Classes will begin in the Edward St. John Learning and Teaching Center on May 30 for the start of UMD's summer session.
"If you don't have state-of-the-art facilities, you won't attract the best and brightest student," explained Michael E. Busch, Speaker, Maryland House of Delegates."
St. John Properties, Inc., founded in 1971, owns and has developed more than 18 million square feet of flex/R&D, office, retail and warehouse space in Maryland, Colorado, Louisiana, Nevada, Pennsylvania, Virginia, Utah and Wisconsin. For more information about the company and their philanthropic efforts, visit https://sjpi.com/company/philanthropy
http://citybizlist.com/article/418994/187000-sf-edward-st-john-learning-and-teaching-center-dedicated-at-university-of-maryland-campus