2,600 suits donated to area veterans at Glen Burnie event
Capital Gazette | Phil Davis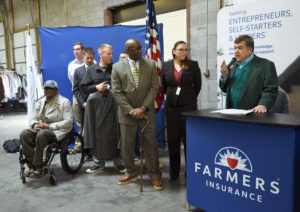 BALTIMORE, MD (March 18, 2017) – Inside a storage facility at the Cromwell Business Park in Glen Burnie, Staff Sgt. Amanda Doria is wearing a black suit with subtle dark red pinstripes, a rarity for the 14-year U.S. Army veteran.
She has aspirations to become a ballroom dancer, but she said her current attire is lacking when it comes to job interviews.
"I look in my closet and it's just military uniform, military uniform, military uniform," Doria said.
It's what spurred Saturday's Marching Our Veterans Back to Work event, an effort spearheaded by Anne Arundel County Councilman Pete Smith.
The Severn Democrat, with help from Howard County Councilman Calvin Ball and sponsorships from Farmers Insurance, ZIPS Dry Cleaners and Men's Warehouse, obtained 2,600 suits to donate to the region's veterans.
Ball said the original goal of the event was to help serve about 200 veterans.
By Saturday, about 750 had registered, with even more on a wait list, he said.
"I am so moved by the turnout," he said. "It shows how much there is a need."
The event targeted a demographic that those in attendance said can be particularly vulnerable due to a lack of disposable income while enlisted.
Doria, for example, is a staff sergeant in the Army stationed at Fort George G. Meade with 14 years of experience, defined as an E-6 non-commissioned officer rank.
That puts her monthly basic pay between $3,688.20 and $3,751.50 a month, dependent on when she officially goes over 14 years of service, according to figures from the Department of Defense's Defense Finance and Accounting Services.
She admits her family is not in the greatest financial shape either, so she sends a portion of her pay back home.
Mike Haas, a Farmers Insurance agent and veteran of the Air Force, spoke about the difficulty of trying to buy a suit while earning an E-5 pay grade, a rank similar to Doria's.
"As you get back out into the community, you need to look the part for the job that you're trying to get," Haas said. "And getting a suit was one of the very first things that I needed to try to tackle."
He added, "As an E-5, and many of you know what the E-5 pay grades make, when I ventured out into the community and said, 'OK, I'm going to get a suit and I'm going to look sharp and smart and I'm going to go out and get my first civilian career opportunity,' I walked in and I said, 'Oh my gosh, this is more than I make in a week.'"
He said Farmers Insurance has helped collect 70,000 suits nationwide to support the cause across the country.
By 10:30 a.m., the warehouse in Glen Burnie was packed with military veterans and their families surveying racks of suit jackets and dress shirts.
In his speech, Ball alluded to bringing back the event next year, joking with Smith by calling this year's event the "first annual" of its kind.
And it saw its fair share of dignitaries in support of the effort. Rep. John Sarbanes, D-Towson, and Rep. C.A. "Dutch" Ruppersberger, D-Baltimore County, both gave speeches to those in attendance alongside Smith, Ball and Haas.
Ruppersberger took time to commend both Smith and Ball for courting the corporate sponsors to make Saturday's event possible.
"Because if you don't have a job, you can't support your family, your community, your state or your country," Ruppersberger said.
While many who helped organize the event praised Smith for his efforts, he kept his remarks brief when speaking to the crowd.
"The purpose and the goal of this was to connect corporate entities and partnerships with community organizations with veterans who I think are the most worthy citizens that we have in this country," Smith said.
"Honestly, I'm a veteran myself, so I'm probably biased, but I would venture to say there are those who are out there who would probably agree with me that they sacrifice a lot. And it's only appropriate that we do our part to make sure they're taken care of."
As Doria left the event shortly before 11:30 a.m. — wearing her new suit — there were scores of veterans behind her, still trying on suit jackets.
http://www.capitalgazette.com/news/business/ph-ac-cn-veterans-suits-0319-20170318-story.html