103-room Residence Inn by Marriott opens in Maple Lawn
Baltimore Business Journal  |  Amanda Yeager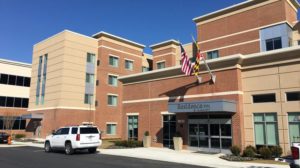 A new hotel is joining the mix in Howard County's Maple Lawn development.
The 103-room Residence Inn by Marriott opened at 11800 West Market Place on Feb. 11. The hotel, owned by Frederick-based Plamondon Hospitality Partners, primarily caters to extended-stay travelers and offers studio, one-bedroom and two-bedroom suites.
It's the only hotel within the 600-acre mixed-use community developed by Greenebaum Enterprises and St. John Properties on what used to be farmland in southern Howard County. Maple Lawn is also home to more than 1,000 homes as well as restaurant, retail and office space.
The hotel's general manager, Stan Martin, said the project fills a need for the "growing community."
With a CVS, Harris Teeter, dry cleaner, spa and print shop all within walking distance, "I rack my brains to find out what's not here," Martin said.
He expects to see a mix of business and government travelers at the hotel, as well as guests visiting family nearby.
Amenities at the new Residence Inn include an indoor pool, fitness center, 24-hour market, free breakfast, free WiFi and free grocery delivery. The hotel is pet-friendly and also offers meeting space for as many as 60 guests.
Newcomer and Associates of Chambersburg, Pennsylvania, designed the project and Frederick-based Waynesboro Construction Co. handled construction for the hotel.
Plamondon Hospitality Partners' portfolio includes Marriott and Hilton hotels in Frederick, Hagerstown, Altoona, Pennsylvania, and Grovetown, Georgia. The company also owns several Roy Rogers franchises, Martin said.