St. John Properties signs MagView to Maple Lawn lease
The Daily Record  | Adam Bednar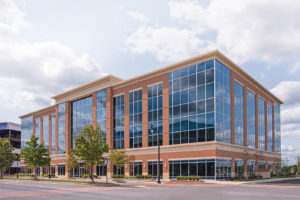 Medical software firm MagView plans to leave Montgomery County for a 15,000-square-foot space in Class A building at the mixed-use Maple Lawn development in Howard County.
Currently based in Burtonsville, MagView intends to relocate its roughly 75 employees to the four-story, 104,123-square-foot building at 8110 Maple Lawn Blvd. this fall.
"Our company outgrew our existing facilities and continues to expand rapidly, and, as we embarked on a long-term operational strategy, we believed it was essential for our new location to be easily accessible to a highly skilled technical workforce," MagView's President and CEO Bryan Chapin said in a statement. "We began looking closer at Maple Lawn due to the numerous high technology firms contained within the business community."
MagView, founded in 1990 as a health care management company in Silver Spring, develops software that tracks the information of patients undergoing mammography and other breast imaging exams.
Tenants at Maple Lawn, developed by master developer Greenebaum Enterprises and St. John Properties, include technology firms Cisco, DataTribe and IronNEt Cybersecurity. Sean Doordan and Claire Cobert, both of St. John Properties, represented the landlord in the deal with MagView.
St. John Properties describes Maple Lawn, a development totaling more than 1 million square feet of office, research and development/flex and medical space, as providing an amenity rich "Main Street" style atmosphere. The project's scope includes 1,300 residential units and 120,000 square feet of retail.
During the same time period, the Towson submarket, which includes 4.6 million square feet of inventory, recorded a 13.7% overall vacancy rate with Class A asking rents of $22.95 per square foot. The Annapolis submarket, which covers roughly 3.2 million square feet of inventory, posted a 13.4% overall vacancy rate with an average Class A asking rent of $25.86 per square foot.
Overall, NKF projects a solid short-term outlook for Baltimore area suburban office properties. While vacancy rates for the metro region are expected to remain flat at about 12.6%, NKF expects demand for the region's suburban markets, driven by job growth in the health care and cybersecurity sectors, to outpace supply for the next 24 months.