Bryan Cyphers Selected for St. John Properties' Partner in Training Program
Five professionals now active in four-year program designed to fuel
commercial real estate development company's national expansion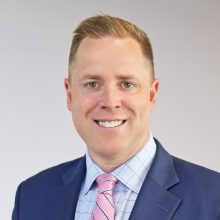 BALTIMORE, MD – St. John Properties, Inc., a Baltimore-based commercial real estate development and management company active in 11 states, has selected Bryan Cyphers as the newest professional in its signature four-year Partner in Training Program, designed to fuel its national expansion. The program, which prepares participants to open and oversee all operations of a new regional office in a section of the United States identified as a growth market, provides education and experience in six commercial real estate disciplines: legal and acquisitions, development, construction, leasing, tenant improvements and property management.

Nine professionals have completed the company's Partner in Training Program since its inception, and five are presently active in the program. In the past year, St. John Properties has opened new regional offices in Tampa, Florida and Austin, Texas by Partner in Training Program graduates, Michael Sacks and Brooke Harlander, respectively, both of whom have been promoted to Regional Partners. In addition, Regional Partner Dustin Atkielski opened a new Regional Office in the Research Triangle area of North Carolina late last year.

"Our long-term goal is to grow our 23 million square foot commercial real estate portfolio to more than 40 million square feet, and we believe that our Partner in Training Program will be a significant contributor toward this mission," stated Sean Doordan, Executive Vice President of Acquisitions and Growth for St. John Properties. "Candidates entering this program are chosen based on their strong communications, organizational and leadership skills, as well as their ability to work independently. Upon completion, they will have received expert mentorship from the best and brightest in the commercial real estate industry."

"Bryan's background and skills within commercial real estate along with his strong character, values and temperament align perfectly with the responsibilities needed to grow and oversee operations of a regional office," Doordan added.

Cyphers earned a Bachelor of Business Administration degree with a concentration in Management from the Loyola University Maryland Sellinger School of Business and Management. He also earned a Master of Business Administration from the University of Baltimore.

Founded in 1971, St. John Properties, Inc. is one of the nation's largest and most successful privately held commercial real estate firms. The company is distinguished by its commitment to customer service, achievements in green building, and top-rated workplace culture. Throughout St. John Properties' 52-year history, the company has developed more than 23 million square feet of flex/R&D, office, retail, and warehouse space, and has investments in over 3,000 residential units. The company proudly serves more than 2,500 clients in Colorado, Florida, Louisiana, Maryland, Nevada, North Carolina, Pennsylvania, Texas, Virginia, Utah, and Wisconsin. For more information about the company, visit www.sjpi.com.