St. John Properties' Sustainable Commercial Buildings in Maryland
Sustainability is a critical topic for many, but who keeps track when it comes to commercial buildings?

LEED, which stands for Leadership in Energy and Environmental Design, is a globally recognized and widely used rating system and certification program developed by the U.S. Green Building Council (USGBC). LEED is designed to promote and acknowledge sustainable and environmentally responsible building practices in the construction and operation of buildings and communities.

Below we showcase the best of the best when it comes to the sustainable buildings developed and managed by St. John Properties.
Maple Lawn
The Class 'A' office buildings in Maple Lawn's Business District are the focal point of this development. These nine multi-story buildings feature attractive lobbies and state-of-the-art mechanical and energy management systems. Tenants benefit from nearby childcare facilities, an affordable fitness center, and a wide array of dining, shopping, and personal services, as well as 10 miles of walking trails and pathways.

St. John Properties' dedication to sustainability is apparent at Maple Lawn. The community is home to nearly 1 million square feet LEED certified commercial space, with the majority achieving Gold level certification. This underscores Maple Lawn's commitment to eco-friendly building practices and energy efficiency, making it an attractive choice for businesses and residents in the Baltimore-Washington corridor.

Maple Lawn is an award winning 605-acre mixed-use community situated near Route 29 and Scaggsville Road in the Baltimore-Washington corridor. It offers convenient access to major business hubs, government institutions, and research universities in the area.

This Howard County community encompasses a diverse range of facilities, including over 1 million square feet of multi-story Class 'A' office space, 210,000 square feet of flex/R&D space, 150,780 square feet of retail space, and more than 1,300 residential units – all designed within a walkable neighborhood environment.
Greenleigh
Greenleigh, a sprawling 1,000-acre mixed-use community in Middle River, Maryland, is at the forefront of environmental sustainability. The community boasts over 1 million square feet of LEED-certified space, including residential, flex/R&D, and office buildings, and also features a hotel and self-storage facility.

The majority of the commercial buildings at Greenleigh have achieved LEED certification, showcasing Greenleigh's unwavering commitment to eco-friendly design, energy efficiency, and responsible resource management.
Notably, LEED Gold-certified The Berkleigh luxury apartment complex within Greenleigh exemplifies these green initiatives. Through these collective efforts, Greenleigh emerges as a model for sustainable development, demonstrating its commitment to creating a healthier and more eco-conscious living and working environment.

This dedication to sustainability has earned Greenleigh accolades, including the "Community of the Year" title from the Maryland Building Industry Association in 2019, highlighting its excellence in environmentally conscious development and urban planning.

Greenleigh offers modern and sustainable living spaces, aligning with eco-conscious principles, and its commercial spaces prioritize functionality while adhering to sustainable design practices. With a strong emphasis on green building and eco-friendly amenities, Greenleigh serves as a pioneering model for sustainable communities, setting a high standard for responsible development in the region while offering an appealing and forward-thinking living and working environment for its residents, tenants and their employees.
Melford Town Center
Melford Town Center, a sprawling 466-acre mixed-use community in Bowie, Maryland, stands out for its unwavering dedication to sustainability. Situated between Annapolis and Washington, D.C., the Prince George's County project showcases a commitment to environmentally responsible development through more than a quarter million square feet of LEED-certified space. The community prioritizes energy efficiency, incorporating Energy Star appliances, energy-efficient HVAC systems, and lighting fixtures, and is home to St. John Properties' 100th LEED certified building. It further promotes eco-friendly transportation with onsite electric vehicle charging stations.
Melford Town Center's proactive approach to sustainability not only benefits the environment, but also enhances the appeal and functionality of the community. Its commitment to green building practices, energy efficiency, and eco-conscious amenities makes it a model for responsible and sustainable development in the region, setting a high standard for future projects in the area. This dedication not only benefits its residents and tenants but also contributes to a brighter and more sustainable future for the community and the broader region.
St John Properties' Commitment to Sustainability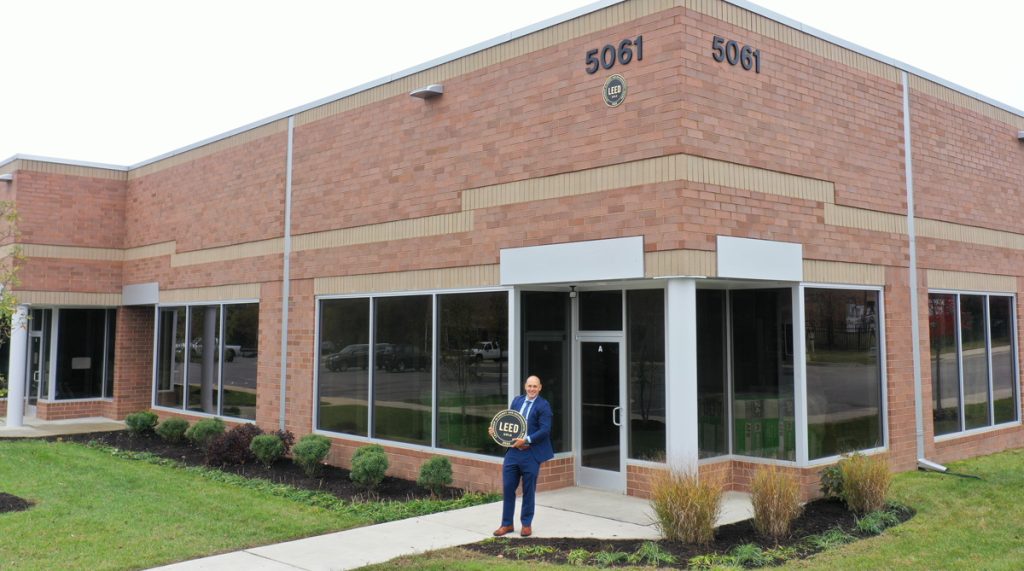 St. John Properties has emerged as a leader in green building practices. Notably, in 2022, the company achieved LEED certification from the USGBC for its 100th building, exemplifying its dedication to sustainable development. The impressive track record has positioned St. John Properties as the leading green developer in the Maryland, Virginia, and Washington, D.C., region over the last five years.

St. John Properties' national sustainability program, initiated in 2009, focuses on enhancing workplace experiences within the buildings while increasing overall energy efficiency to reduce operating costs for tenants. The commitment extends to investments in green materials, solar panels, energy-efficient lighting, white reflective roofs, top-notch insulation, and high-performance HVAC systems. Notably, St. John Properties' in-house team dedicated to the LEED certification process has enabled the company to stay ahead in an ever-evolving green building landscape.

The built environment plays a significant role in global CO₂ emissions, making sustainable building practices critical. LEED certification, developed by USGBC, offers a framework for healthy, efficient, cost-saving green buildings that benefit both the environment and occupants' well-being. St. John Properties' commitment to green building goes beyond energy efficiency; it includes enhancing indoor air quality through UV-C light disinfection systems and high-efficiency HVAC air filters, promoting employee wellness, productivity, and reducing absenteeism.

Looking ahead, St. John Properties plans to expand its green initiatives, including scalable solar programs, electric vehicle charging stations, and LED lighting upgrades. The company's commitment to green building sets it apart and positions it for success, meeting the growing demand for sustainable spaces and contributing to a greener, cleaner future.
FAQs About Sustainable Building Practices
How Do You Know if a Building Is Sustainable?
The simplest and most reliable way to gauge a building's sustainability is by checking whether it has achieved LEED certification and, if so, at what level it has been certified. LEED certification serves as a clear and widely recognized indicator of a building's environmental performance and sustainability. LEED building certifications are scored on a point scale and are as follows:
40-49 points: LEED Certified
50-59 points: LEED Silver
60-79 points: LEED Gold
80+ points: LEED Platinum
The higher the score, the more sustainable the building is.
---
How Does a Building Get LEED Certified?
To obtain LEED certification, a building project must undergo a structured process. It begins with project registration and the selection of the appropriate LEED rating system. The project team, comprising architects, engineers, and other experts, develops sustainable design strategies and collects documentation to demonstrate compliance with LEED criteria and credits. A third-party reviewer assesses the documentation, and if the project meets the necessary requirements, it can receive preliminary LEED certification.
---
What Is The Difference Between LEED and Green Building?
LEED is a structured and standardized certification program that falls under the umbrella of green building practices. Green building represents a broader commitment to sustainability in the construction and operation of buildings and can encompass various sustainability strategies, including those recognized by LEED.