St. John Properties Achieves 100th LEED Certification with Goal to Implement a Scalable and Economic Solar Approach Across 10-State Portfolio
According to the USGBC, St. John Properties has certified more commercial LEED projects in Maryland, Virginia and Washington, D.C. than any other organization in the past five years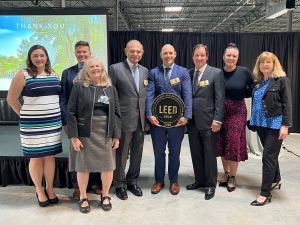 BALTIMORE, MD (October 31, 2022) – St. John Properties, Inc., a Baltimore-based full-service commercial real estate development and management company which has developed more than 22 million square feet of space across 10 states, has earned Leadership in Energy and Environmental Design (LEED) certification from the U.S. Green Building Council (USGBC) for the 100th building in its national portfolio. The most recent building to achieve this certification at the Gold level is 5061 Howerton Way, a single-story building in Melford Town Center comprising 34,560 square feet of flex/R&D space. Since initiating its sustainability program in 2009, St. John Properties has developed just under six million square feet of LEED certified space and has been ranked within the top five LEED developers nationwide by the U.S. Green Building Council.

"St. John Properties is a leading green developer in one of the top green building markets in the world," stated Ryan Snow, Regional Director, U.S. Market Transformation & Development for the U.S. Green Building Council. "They have certified more commercial LEED projects in Maryland, Virginia, and Washington, D.C. than any other organization in the last five years. The scale of their impact is remarkable. Their leadership is a signal to the market of what is possible, practical, and profitable as a business strategy."

"Our company's ongoing initiatives to be innovators in the sustainable building movement are driven by our understanding of the relationship between indoor air quality with improved employee wellness, morale and productivity," stated Lawrence Maykrantz, President and CEO of St. John Properties. "The past several years have reinforced our commitment and investment to this mission, given the top-of-mind awareness generated about employee health and well-being. Formulating and executing a feasible strategy for green buildings is a core value of the company, and we intend to remain a trendsetter in this space."

St. John Properties also plans to roll out a scalable solar program impacting all newly designed buildings. The new solar program will complement the company's existing suite of green initiatives, which includes installing electric vehicle charging stations or underground conduits at all newly constructed flex and multi-story office buildings across the portfolio to support the use of energy efficient electric vehicles. The company also launched a program to upgrade lighting in existing buildings to LED fixtures, and uses building materials and asset management practices that conserve natural resources, save energy and reduce operating costs.

"Achieving LEED certification on speculative flex/R&D buildings is not common in the industry, and definitely not at the scale we've managed to implement," explained Ryan Schwabenbauer, St. John Properties' Assistant Vice President, Sustainability. "We anticipate demand for LEED space from both publicly-traded and private companies will grow, alongside demand from employees who value sustainability in their workplace. We recognize the unique opportunity we have to introduce the benefits of LEED buildings to the small businesses who often occupy our flex buildings. Nothing is more rewarding than having a client tell you how surprised they are with the energy savings they're getting, or how proud their employees are to work in a green, LEED certified building. That is why we chose a flex building for our 100th celebration — certifying a building of this type at this scale is truly unique."

While LEED's scope includes many building and design elements, St. John Properties pursues credits that align with indoor environmental quality standards that are intended to protect human health, improve quality of life, and reduce stress. LEED Indoor Environmental Quality encompasses the conditions inside of a building that effect occupants including air quality, ventilation, lighting and thermal comfort. Ongoing LEED certifications underscore the company's ongoing mission to expand both wellness and sustainability attributes across their portfolio.

Last year, St. John Properties began the implementation of its UV Whole Building Air Purification process, which entails a multi-step strategy including the installation of UV-C light disinfecting systems designed to eliminate airborne pathogens such as fungal spores, bacteria and viruses that can pass through a building's HVAC equipment. The program also involves replacing existing HVAC air filters with higher-efficiency models that capture more airborne particles, and the utilization of longer HVAC runtimes, allowing for more frequent fresh air circulation throughout a building. The company plans to implement these systems during the construction of all new multi-story office buildings going forward.

In 2020, the Maryland Chapter of the U.S. Green Building Council presented St. John Properties with the "Community Change Agent" award at its annual Wintergreen Awards Celebration honoring accomplishments in healthy design and building, environmental stewardship, and community impact achieved by companies and individuals. In the past three years, St. John Properties has doubled the number of LEED certified buildings in its portfolio.

Founded in 1971, St. John Properties, Inc. is one of the nation's largest and most successful privately held commercial real estate firms. The company is distinguished by its commitment to customer service, achievements in green building, and top-rated workplace culture. Throughout St. John Properties' 51-year history, the company has developed more than 22 million square feet of flex/R&D, office, retail, warehouse space and has investments in over 2,600 residential units. The company proudly serves more than 2,500 clients in Colorado, Louisiana, Maryland, Nevada, North Carolina, Pennsylvania, Texas, Virginia, Utah, and Wisconsin. For more information about the company, visit www.sjpi.com.