Visions build success at North County Summit
Daily Herald | Karissa Neely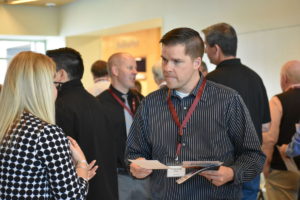 AMERICAN FORK, UT (November 15, 2017) —
The Greek philosopher Epictetus said, "If you want to improve, be content to be thought foolish and stupid."
With this quote, Andrew and Shauna Smith, founders of Four Foods Group, summed up the theme of the North County Business Summit Wednesday in the doTERRA conference center. The event's speakers included a number of visionary business leaders, many of whom have experienced times of feeling foolish and stupid in pursuing their dreams.
But all those struggles led to real success, as each speaker explained. The Smiths moved from the tech startup world to managing and building restaurants. After selling his third tech company, Andrew Smith saw the wife of one of his former board members, while Smith was working as a cashier at Kneaders. When his former colleague inquired a bit worriedly if he was okay, Smith responded to the effect that he was just where he was supposed to be.
Ken Bretschneider, co-founder of VOID and Evermore, had a vision for a new augmented and virtual reality experience like no other. But the process seemed to be on-again, off-again, and he too faced obstacles and pivots along the way. Today, though, both the VOID and Evermore are rising from the ground in Pleasant Grove.
"He is a visionary, he is a creative. And sometimes creatives take a long time. They've got it all mapped out in their head, they can see the big picture. But being able to put all the pieces together takes time. They'll pull back, reinvent, pull back and reinvent. And one of the things you should see about him now is those visions have become a reality. This is real. Evermore is real," said Pleasant Grove's Mayor Mike Daniels of Bretschneider's process.
Bretschneider explained that Evermore will be a "living theatrical experience," set in a fairy tale classical European village setting. People have thought to define it as a theme park, but Bretschneider said Evermore is more than that.
"It's actually a giant immersive stage," he explained. "This is unique to anywhere else in the world."
Many dreamers starting out a new business start in a similar way – with aspirations that take arduous and long-suffering effort to realize. In north Utah County, many small business leaders are daily laboring towards their dreams. Wednesday's North County Summit event — put on by the American Fork, Pleasant Grove-Lindon and Lehi Area chambers of commerce — sought to encourage and support these business leaders' efforts.
"It's been said the rising tide lifts all boats, and I want to say the tide is rising here," said Dianna Andersen, Pleasant Grove city councilwoman.
Daniel Thomas, regional partner of St. John Properties and developer behind the Valley Grove space on Pleasant Grove Boulevard near the freeway, reminded local business owners that some things in business really do take a lot of time and care. He encouraged members of the three chambers to advocate for the business sector among governing bodies in their local cities, to help these entities understand the vision these entrepreneurs can see.
"It's not a bad thing to advocate for what's good for business, and help some of these governing bodies," he said. "Some of them don't come from a business background, and having an advisory group, an advocacy group to help with these decisions is invaluable."
The day was also filled with a few exciting announcements centered around new construction and businesses in the northern part of the county.
Brandon Fugal of CBC Advisors shared in a video the vision Woodbury Corp. has for University Place, which when finished, will be a stunning maze of innovative office, retail and living spaces. In another video segment, he detailed Innovation Pointe, a new Class A multi-building development in Lehi. He added that while the Utah Department of Transportation may not have TRAX lines over the Point of the Mountain at this time, they already have "acquired the right-of-way" to do so.
"We're pretty excited about all the things coming into Utah County," said Josh Walker, director of both the American Fork Chamber and Pleasant Grove-Lindon Chamber.
http://www.heraldextra.com/business/local/visions-build-success-at-north-county-summit/article_74c11c9d-e8f0-5735-9abc-f970ac401b58.html