NAIOP Development Magazine  |  Fall 2017  |  Julie D. Stern
1.9 million sq. ft.
Fenix Development has broken ground on the first phase of The Watermark|Tempe, a 1.9 million-square-foot project at the north bank of Tempe Town Lake in Tempe, Arizona. The project will be Tempe's first vertically integrated mixed-use development. The first phase will consist of two buildings containing 250,000 square feet of office space, 44,000 square feet of high-end restaurants and boutique retail space, and 360 luxury apartments. Future phases will include an additional 360,000-square-foot office tower, another 20,000 square feet of restaurant and retail space, and a 170-room hotel. The first phase is expected to deliver in fall 2018.
1.2 million sq. ft.
Tishman Speyer, with development partner Qatari Diar Real Estate Co., is constructing The Jacx, two 26-story office towers in Long Island City, New York, with a shared, 1-acre park atop a fifth-floor podium. Each tower will contain 570,000 rentable square feet of office space, with floor plans ranging from 20,000 to 90,000 square feet. The vertical office campus will also feature more than 40,000 square feet of retail space and restaurants, including a food hall; a 550-space garage with 24/7 valet service; and a 175-space bike parking area with showers. The development team is aiming for WiredScore Platinum and LEED Silver certification. Delivery is expected in the first quarter of 2018.
686,000 sq. ft.
Ridge, the industrial arm of Transwestern Development Co., has broken ground on Charleston Logistics Center, 686,000 square feet of speculative industrial space on a 63-acre site in Jedburg, South Carolina, approximately 30 miles northwest of Charleston. The center's two 343,000-square-foot rear-load buildings have been designed for multitenant use and each will feature a 32-foot clear height ceiling, 54-by-48-foot column spacing, a 60-foot staging bay, an ESFR sprinkler system, 64 dock doors, two drive-in doors, 202 car parking spaces and 76 truck parking spaces.
274,000 sq. ft.
Pure Development has broken ground on a mission-critical manufacturing facility for BeijingWest Industries Co. Ltd. (BWI), a growing Chinese supplier to the U.S. automotive market, in Greenfield, Indiana. Pure will invest approximately $40 million to develop the facility; BWI will invest another $50 million over the course of its 20-year lease. BWI will use the facility to manufacture brake and suspension systems for global automotive companies like Audi, BMW and Honda. Construction of the almost 275,000-square-foot facility began in July; BWI expects to begin operations at the facility by August 2019.
200,000 sq. ft.
Condor Partners is redeveloping two 100,000-square-foot loft buildings in Chicago's Pilsen neighborhood into Mural Park, a mixed-use project that will include office, light manufacturing and retail space. The project, which has been designed to celebrate the local community's rich cultural history, is expected to be ready for occupancy in the first quarter of 2018. It will cater to existing Pilsen businesses as well as local startups and nonprofits. Amenities will include a restaurant, cafe, rooftop deck and bicycle storage. A plaza will feature murals in conjunction with the local National Museum of Mexican Art and other local artists. Transwestern is providing leasing services.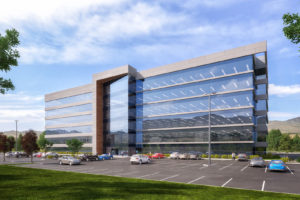 190,000 sq. ft.
St. John Properties is building Grove Tower, a 190,000-square-foot office building in Pleasant Grove, Utah. The six-story structure, which will be the largest multitenant office building between Provo and Sandy, will be adjacent to two single-story office buildings St. John has already completed in the 60-acre Valley Grove master-planned development. Grove Tower is expected to be completed in December 2017, with tenant occupancy beginning in January 2018. Software developer Instructure will be the anchor tenant.
177,000 sq. ft.
New South Construction Co. has broken ground on the Hull McKnight Georgia Cyber Innovation and Training Center on the Augusta University campus in Augusta, Georgia. The $60 million project, which is being fast-tracked, is slated to open in July 2018. The Georgia Technology Authority is overseeing construction of the 177,000-square-foot building, which will include a parking deck with more than 500 spaces. The facility will house the university's Cyber Institute and Augusta Technical College programs as well as the Georgia Bureau of Investigation's new cyber crime unit plus research and development and incubator space.
145,000 sq. ft.
SmithGroupJJR has designed a new three-story Silicon Valley office building that will be developed by Spear Street Capital at 221 N. Mathilda Ave. in Sunnyvale, California. The 145,000-square-foot building's most significant design feature will be a custom 2,000-square-foot laminated glass artwork that will span the east facade. Commissioned from artist Stephen Galloway, the artwork reflects the site's history as an orchard. The building, which is slated for completion in fall 2018, will feature large floorplates up to 49,500 square feet, floor-to-floor windows and industrial elements that create an open, warehouse feel. The site also includes a 1,200-square-foot historic home, which will be redeveloped as a multipurpose conference/amenity facility.
78,000 sq. ft.
Terra, in partnership with Mayfair Real Estate Advisors, is transforming a 1980s-era parking garage in central Coconut Grove, Florida, into a mixed-use building. The redeveloped structure, which will include 78,000 square feet of office space on three floors and 18,000 square feet of street-level retail frontage while retaining the existing public garage, will mark the first delivery of new Class A office space in the neighborhood in more than 20 years. Known as Mary Street, the project will also feature electric car-charging stations and bicycle storage. Construction began in August 2017 and is expected to be completed in late 2018.
60,000 sq. ft.
TM Montante Development and Morgan Communities with design partner BLT Architects are developing a six-story, 60,000-square-foot mixed-use building on the site of the former Millard Fillmore Gates Circle Hospital in Buffalo, New York. Slated for completion in 2018, the 1299 Delaware Building at Lancaster Square will contain about 60 residential units above ground-floor retail space. Future development on the site will include office space and a central square that will serve as a public gathering place.
47 stories
Murphy Development Group and CIM Group are constructing 1326 S. Michigan Ave., a new 47-story apartment tower on a 0.6-acre site that will bring 500 units to the southern portion of this famed Chicago street. Flanked by two lower structures, the tower will provide a mix of studios; one-, two- and three-bedroom units; and approximately 7,500 square feet of ground-floor retail space, as well as parking for 188 cars. Two full floors of amenities will include co-working space, lounges, an outdoor deck with a pool, a dog park, a 47th-floor fitness center with lake views and more. It will be the first apartment building in the city to feature Google Fiber's Webpass service. The building is expected to be completed in early 2018.
8.5 acres
Cooper Robertson has planned and designed the public areas of a new 8.5-acre clinical research campus along the Schuylkill River for the Children's Hospital of Pennsylvania (CHOP). The design, which incorporates cutting-edge resiliency practices to protect against stormwater and flooding, will collect, convey and retain 85 percent of the stormwater that hits the site through a combination of green roofs, rain gardens and underground systems, all of which are expressed as landscape features. The space will include four distinct public open spaces totaling 4.55 acres. Those public spaces will also buffer the scale of the up to 2 million-square-foot research campus.
http://www.naiop.org/en/Magazine/2017/Fall-2017/Development-Ownership/New-and-Noteworthy.aspx