St. John Properties $250M Pleasant Grove development estimated to bring $800M in tax revenue
KSL.com  |  Liesl Nielsen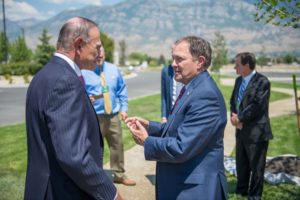 PLEASANT GROVE, UT (August 2, 2017) — A new 62-acre property development in Pleasant Grove is estimated to be a $250 million investment, bring $800 million in tax revenue and allow space for more than 7,000 additional employees to the Silicon Slopes region.
The development, known as Valley Grove, has been under construction for about a year and a half already, but St. John Properties officially broke ground Tuesday in a ceremony with Gov. Gary Herbert.
"One of the reasons we chose (Pleasant Grove) was the centrality to Utah County," said Daniel Thomas, St. John Properties' Utah regional partner. "It's right in the heart of Utah County for all of those true Utah County businesses that want to be more central. And then we also saw a hole in the market between Lehi and Provo. Strong amenities, good restaurants and office space wasn't being offered."
The entire site will eventually include a hotel, six major office buildings, eight retail buildings and 10 additional pad sites. The entire project should take about four more years to complete, according to Thomas.
About 50 percent of Valley Grove will house restaurants, retail stores and the hotel, while the other half will be dedicated to office space, Thomas said. Construction on two single-story office buildings has been completed and the buildings are now about 90 percent occupied.
Crews are currently working on a six-story office building called Grove Tower with an estimated completion date of Jan. 1, 2018. Two other retail buildings are also under construction and should be completed by the same time.
Valley Grove's tenants are a varied bunch, ranging from tech to medical companies. Instructure, a large Utah tech company, will expand to Grove Tower along with Coldwell Banker Commercial Advisors. R&R BBQ, a Utah restaurant chain, also recently announced its newest location would be in the heart of the property development.
Valley Grove is located just east of the Pleasant Grove Boulevard freeway interchange.
"The traffic infrastructure is incredible (there)," Thomas said. "With all the congestion that's happening in other places, and in particular northern Utah County and Lehi, the Pleasant Grove interchange was designed to accommodate a lot of growth."
Upon completion, Valley Grove will be lined with more than 2,000 trees. The development's buildings will also be designed for maximum energy and water savings, according to St. John Properties.
"Utah continues to attract strong businesses to support what is now the fastest growing state in the nation," said Herbert in a news release. "This project will contribute greatly to the already growing strong economic base in Utah Valley. I appreciate that St. John Properties has prioritized the hiring of local contractors, and wish them well as they break ground on Pleasant Grove's Valley Grove project."