Blue Haven Foundation fundraiser to support police officers' families
Daily Herald  |  Karissa Neely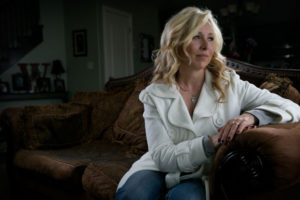 PLEASANT GROVE, UT (July 30, 2017) — If you're in neighborhood of the Pleasant Grove Boulevard interchange Wednesday, you might want to head over to the parking lot of the Valley Grove project — not for the construction sights, but for the musical sounds.
Multiple local rock groups will be jammin' their way through familiar tunes that evening to raise funds for the Blue Haven Foundation. Blue Haven was founded by Nannette Wride, widow of fallen police officer Sgt. Cory Wride, to help other widows and families of fallen officers.
"I want to make sure fallen officers' families are not forgotten, not left behind. Because many times they are," Nannette Wride said. "We do feel forgotten, and our pain stays in our face all the time. I've talked to widows who are 30 years out, and they say it doesn't stop — you just stop looking for them to come through the door."
Wride explained that the family of emergency personnel are in a distinctive position — there is that constant dread, when the officer is working, that he or she won't come home again. When they don't, the pain is uniquely acute. Others outside that experience don't understand the grieving process these families endure.
When John Pilmer, CEO of PilmerPR, first met Nannette Wride, he knew that he needed to get behind this cause. That is the motivation for organizing Wednesday's fundraiser event. The fundraiser is in its third year, but Pilmer said this year will be bigger and better than before. He's worked out the kinks and logistics, and partnered with larger sponsors.
"The fundraiser is the raffle, at $2 a ticket," he said. "We've had thousands donated in kind. People could win everything from headphones to a ukulele, to custom jewelry and restaurant gift cards. There are a number of great things."
The music, he said, is just a bonus. All of the musicians are donating their performance time because they believe in helping the families of police officers as well.
"We're hopeful we will raise thousands for the cause. We want to create awareness for those who put their lives on the line and for their families left behind," Pilmer said.
Pilmer admires Nanette Wride greatly because out of her own pain, she's reached out to others. Her foundation now spans across eight states, and she has personally met widows from each one of those this year — though as she explains, she has good phases and bad.
Pleasant Grove Police Chief Mike Smith has also been working with Wride and Pilmer on the fundraiser, because he also knew Cory Wride.
"Cory was a friend of mine. We went through Hell Week together, and we served on SWAT together. It stinks that bad things sometimes have to happen to get great things like this to happen," Smith said. "I will do anything to help with what this foundation is doing, with what Nannette is doing."
The Blue Haven Foundation fundraiser event will be from 6:30 to 9 p.m. Wednesday in the parking lot of St. John's Properties, at 1982 W. Pleasant Grove Blvd., Pleasant Grove. The featured live bands will be Rusty Fenders and Nervous Breakdown & Friends. Food trucks will also be on site for dinner. More about the event can be found at http://bit.ly/2uIAkMQ.
http://www.heraldextra.com/news/local/north/pleasant-grove/blue-haven-foundation-fundraiser-to-support-police-officers-families/article_c8f40f4f-2ae1-5971-8502-46ddf52f3946.html