Slim Chickens to open third Utah location in Pleasant Grove
The Daily Herald | Ashryn Asay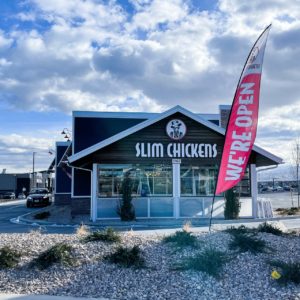 Another chicken choice is coming to north Utah County. The L.O.V.E. Restaurant Group announced on March 7 that it will open Utah's third Slim Chickens location in Pleasant Grove.

"You can go absolutely as incredibly healthy as you want with our meals, and you can also get comfort food," William Smith, the CEO of L.O.V.E. Restaurant Group said. "We kind of have a nice menu mix that really I think really matches well with the Utah family."

With locations already in Herriman and Lehi, Slim Chickens is tentatively set to open at 1050 S N County Boulevard in Pleasant Grove on Aug. 16. According to Smith, the group chose this location at the Valley Grove mixed-use business community for the picturesque mountain scenery, as well as his own ties to the Wasatch Front.

"While I'm based in Colorado, the majority of my family is along the Wasatch Front," Smith said. "We really really love the mixture of Pleasant Grove being such a vibrant commercial hub but also where we are there's also people commuting back home … so it's a very unique mix."

Eventually, L.O.V.E. hopes to have Slim Chickens locations all along the Wasatch Front.

Smith stated that he has walked away from franchises before because he didn't believe in the product they were selling, but something is different with Slim Chickens. He believes the restaurant's commitment to using fresh ingredients and providing guests with southern hospitality sets it apart from the pack.

"One of the first things for our brand is what we call southern hospitality, and our particular value for that is what we call Meemaw which is what a lot of folks in the south call their grandmother," Smith said. "What we're trying to create is that environment… whether it's your grandmother or one of the relatives in your family… when you go to their house you just get treated a certain way and you feel special."

According to Smith, the grandmotherly love doesn't stop with Slim Chickens' guests. Once operational, the Pleasant Grove Slim Chickens location will employ 80 full and part-time staff members that L.O.V.E is committed to helping grow professionally.

"We really focus on trying to take care of, uplift, and provide opportunities for our employees, whether that's to help them up within our company, or even just help them improve their skills so they can move on to something different," Smith said. "One of our fundamental values is to love our people so that they can love our guests."

Slim Chickens is a fast-casual restaurant that was founded in 2003 in Fayetteville, Arkansas. The chain offers chicken tenders, chicken sandwiches, salads, wraps and more.