East Coast company touts $250 million development in Pleasant Grove
The Salt Lake Tribune | Tom Harvey
Project on 62 acres next to Interstate 15 already has tenants.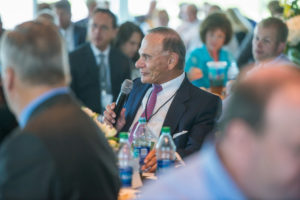 PLEASANT GROVE, UT (August 2, 2017) — Baltimore-based St. John Properties is expanding into Utah with a bang.
The company, which describes itself as a successful "mid-Atlantic region" developer, on Tuesday welcomed government officials and company execs to its 62-acre, $250 million development in Pleasant Grove in Utah County. The development, with several buildings finished or nearly complete, is slated to include more than 1 million square feet of offices, retail, restaurant and hospitality spaces.
In a ceremony, Coldwell Banker Commercial Advisors signed a lease — brought to the event by parachutists — to relocate its offices to 16,000 square feet of space in the Grove Tower office building.
Construction on the six-story building is expected to be finished in about five months.
Two other buildings are completed. Other announced tenants include education software company Instructure and R&R Barbeque.
St. John Properties' website showcases projects in Maryland and Virginia. But regional partner Daniel Thomas said that three years ago, the company identified Utah as a new target market.
"We came to Utah because of the incredible regulatory environment, the favorable tax environment, just the business-friendly way the government works out here and we saw a market we could invest in for a long time to come," said Thomas.
Valley Grove is projected to generate over $800 million in tax revenue to the state, county and Pleasant Grove, while eventually becoming home to 7,000 employees, the company said. The development is located beside Interstate 15.
Thomas said St. John will receive local property tax refunds on one of the six planned office buildings. It did not receive any state tax incentive.
http://www.sltrib.com/news/business/2017/08/01/east-coast-company-has-started-250-million-development-in-pleasant-grove/