Pleasant Grove's Valley Grove holds groundbreaking
Daily Herald  |  Karissa Neely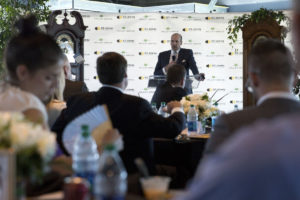 PLEASANT GROVE, UT (August 2, 217) — Valley Grove has been the start of something big in Pleasant Grove, and Tuesday's celebration highlighted the transformative nature of the development.
St. John Properties finally held its official groundbreaking ceremony Tuesday for the 62-acre master-planned development, which sits just east of the Pleasant Grove Boulevard freeway interchange. The development already has two office buildings completed, and the skeleton of the Grove Tower, a 192,000-square-foot, six-story Class A building, is already reaching its fingers into the Pleasant Grove skyline.
"What's happening here is a collective work," said Daniel Thomas, managing partner of St. John Properties, which is developing the space.
Thomas used Tuesday's luncheon event to introduce many of the development's first tenants, including companies specializing in software technology, mortgages and aerospace technology. He likened the space to a tree, something that takes time to grow big and strong.
"This is going to grow and be strong, and make us a lot of money. It is going to grow our community, our businesses," Thomas said. "Today is a celebration of Valley Grove and St. John's, a symbol of what we were, what we are and what we plan to be."
Brandon Fugal, chairman of Coldwell Banker Commercial Advisors, also announced Tuesday that CBC Advisors will be moving its headquarters to the Grove Tower building. CBC Advisors will move into a 16,000-square-foot space.
"We are excited to expand our commitment in Utah County and establish our new Class A office in Pleasant Grove," Fugal said in a statement. "As the only full-service commercial real estate office in Utah County, our 50 professionals and growing offer the most cutting-edge market intelligence, and will continue to lead the market from this new location."
The luncheon event was catered by R&R BBQ, a Utah restaurant chain, which also announced its new Pleasant Grove location in the heart of the Valley Grove development.
"There's been other locations that we haven't been that excited about. But everybody is excited about this location," said R&R co-owner Rod Livingston.
Over the life of the project, St. John's expects Valley Grove to generate more than $800 million in tax revenue to the state, county and Pleasant Grove, while hosting more than 7,000 employees.
Gov. Gary Herbert took a shovel in hand to celebrate the event as well.
"Utah continues to attract strong businesses to support what is now the fastest-growing state in the nation," Herbert said in a statement. "This project will contribute greatly to the already growing strong economic base in Utah Valley.
"I appreciate that St. John Properties has prioritized the hiring of local contractors, and wish them well as they break ground on Pleasant Grove's Valley Grove project."
The multi-phase project will ultimately include six major office buildings, eight different retail sites and 10 additional pad sites. The R&R BBQ will sit on the corner of Pleasant Grove Boulevard and the still-to-be-built Valley Grove Way.
http://www.heraldextra.com/business/local/pleasant-grove-s-valley-grove-holds-groundbreaking/article_c75b1121-9b84-5a90-8ad6-0f920dc6b3ee.html